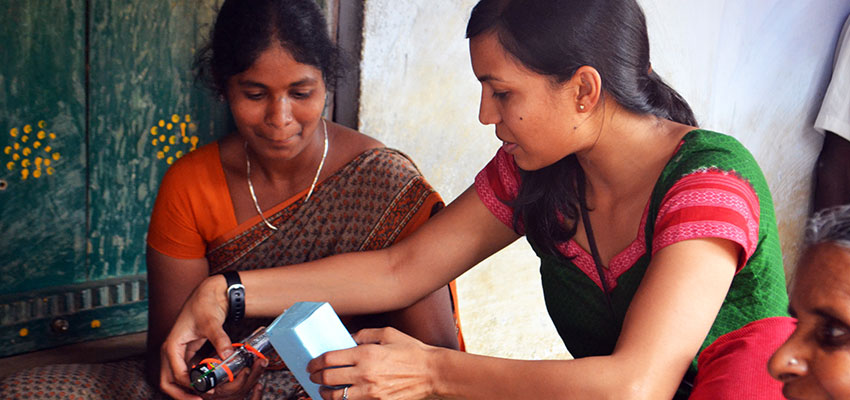 Two participants in the 2015 International Development Design Summit "Aarogyam" (Good Health). Chennai, India.
MIT D-Lab
The 2021 Scale-Ups Accelerator, developed in collaboration between MIT D-Lab and Upaya, will prepare women entrepreneurs for investment and pilot new methods to address gender financing gap.
Cambridge, MA: MIT D-Lab announces a collaboration with Upaya Social Ventures, a nonprofit growing small businesses to create jobs for the extreme poor by supporting small and growing businesses in India. This pilot program, known as the Scale-Ups Accelerator 2021, will join the strengths of the MIT D-Lab Scale-Ups Fellowship and the Upaya Social Ventures Accelerator to reduce barriers to investment in women-led enterprises in India.
Through a competitive process, the program will select women entrepreneurs in India to participate in six months of trainings, mentorship, networking, and co-design workshops designed to increase their access to the capital investment needed to scale their businesses. As part of the program, the entrepreneurs will have the opportunity to participate in MIT D-Lab's Co-Design Sprint with investors to design, prototype, and test gender-smart solutions for applying a gender lens across their investment process and capital allocation. In addition, up to three participating enterprises will have the opportunity to raise USD $50,000 from Upaya.
---
"Working with Upaya on this project is an exciting opportunity to explore how to drive the transformation needed to promote and support more successful women entrepreneurs in Southeast Asia." — Amy Smith, MIT D-Lab
---
The Need
Capital is not reaching women-led small and growing businesses. According to research conducted by the International Financing Corporation of the World Bank, small and growing businesses with a woman on their founding team receive only 11% of seed financing, despite evidence that women-led enterprises produce strong returns for investors.
---
"I've been told that honesty and vulnerability come off as self-doubt, especially when male entrepreneurs are pitching a 10x version of themselves. The industry attempts to try and fix women entrepreneurs by educating us with confidence philosophies. But I don't think it's simply a confidence issue. Honesty allows all entrepreneurs to have open dialogue, and question what we are building so we can do it better. If we want healthy and realistic entrepreneurs — men and women –, we need funders who will participate honestly in the conversation too." Rebecca Hui, Roots Studio and 2017 MIT D-Lab Scale-Ups Fellow
---
The Accelerator
The 2021 Scale-Ups Accelerator draws on Upaya's deep expertise and experience working with – and investing in – early-stage Indian ventures and MIT D-Lab's co-design work with a global audience of social entrepreneurs and innovation ecosystems.
Over the course of the pilot, the entrepreneurs, investors, and other stakeholders in the entrepreneurship ecosystem will co-design solutions to close this gender financing gap. Participants will receive tailored training in skills such as fundraising, investment readiness, leadership and organization – all with a gender lens that exposes and addresses unique barriers to women's success. Key to the program will be work with the entrepreneurs and members of the investment community to co-design tools and strategies to understand biases and overcome barriers in raising institutional investments.
---
"With the focus on this gender lens, they will have access to technical training and knowledge, along with the soft skills and personalized support to overcome challenges faced by them when it comes to raising funds and scaling up their businesses." — Rachna Chandrarashekhar, Upaya
---
Specifically, the program will feature three major activities:
Learning Lab: Empower female entrepreneurs to unpack and overcome internalized barriers that hinder successful fundraising, co-creating a shared understanding of these biases and strategies to overcome them.
Investment Readiness Training: Build Fellows' skills in impact measurement, financial modeling, and pitching.
Co-Design Sprint: Engage investors, entrepreneurs, and other stakeholders to co-design strategies that incentivize more equitable investment by funding institutions and capital providers.
In conjunction with the pilot, MIT D-Lab will develop simulation kit for navigating fundraising as a woman entrepreneur: to be used by female founders to understand, experience and overcome the mindset challenges they often face when trying to navigate their fundraising journey and fundraise for scale, as well as a series of case studies documenting the co-creation process between investors and entrepreneurs; and guidance on how other investors may adopt similar approaches.  
---
"By fostering a community of peers, role models, and institutional investors around our entrepreneurs ... we will have the opportunity to incorporate multiple viewpoints and co-design more inclusive solutions." —Jona Repishti, MIT D-Lab
---
Application Details
The cohort for the pilot program will consist of six to nine women entrepreneurs who are leading early-stage enterprises in India that are focused on creating livelihood opportunities for people living in extreme poverty. The selection criteria will identify for-profit companies that are generating revenue, showing traction and market potential, have raised no more than USD $75,000, and have potential to scale and create 1,000 jobs over seven years. Applications for the program will be accepted from October 11th to November 6th, 2020.
-----------------
About Upaya Social Ventures
Upaya Social Ventures is fighting extreme poverty through dignified jobs. Founded in 2011, Upaya provides investment and consulting support to early-stage businesses aimed at creating jobs for the poorest of the poor. Upaya's continually growing portfolio of impact investments has created nearly 17,000 lasting, dignified jobs. Endorsed by ImpactMatters as a high-impact, cost-effective nonprofit, Upaya's teams in Seattle and Bangalore are committed to a goal of helping entrepreneurs create jobs for 50,000 people in India by 2023. To support its mission, Upaya runs an annual Accelerator Program in India focused on investment readiness for early-stage businesses creating jobs and livelihoods to lift people out of extreme poverty.
About MIT D-Lab
MIT D-Lab works with people around the world to develop and advance collaborative approaches and practical solutions to global poverty challenges. The mission is pursued through an academics program of more than 20 MIT classes and student research and fieldwork opportunities; research groups spanning a variety of sectors and approaches; and a group of participatory innovation programs called innovation practice.
The MIT D-Lab Scale-Ups Fellowship, founded in 2012, is a global accelerator that works with local entrepreneurs bringing poverty-alleviating products and services to market at scale. The fellowship focuses on tailored mentoring, capacity building and inclusive design training, and networking. The program has supported 39 Fellows working on four continents in sectors including agriculture, energy, water, health care, housing, livelihoods, mobility, recycling, education, and personal finance. Fellows supported between 2012 and 2017 raised $21.5 million in investments; have created over 536 full-time, 155 part-time jobs, and 8,226 indirect jobs; and, through their product and service offerings, have directly improved the lives of over 2.25million people living in low-income settings.
The MIT D-Lab Scale-Ups Fellowship is funded in part by a generous grant from ANDE Advancing Women's Empowerment Fund.
###
---
More information
MIT D-Lab Scale-Ups Fellowship
Contact
Jona Repishti, MIT D-Lab Social Entrepreneurship Manager