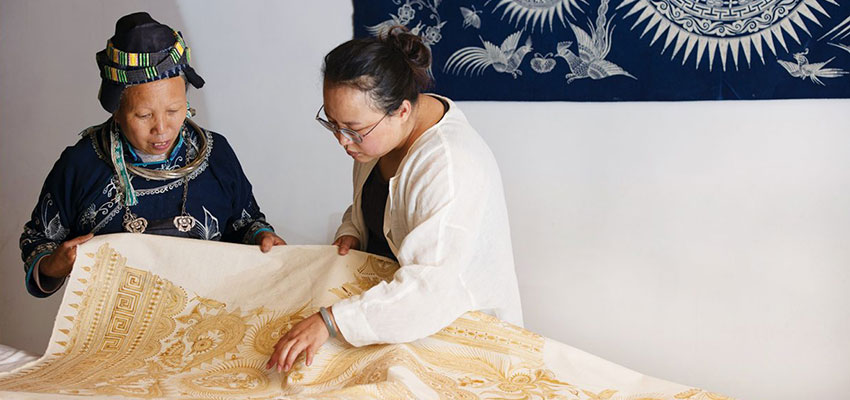 Xiao Liu, right, a community organizer with Roots Studio, looks over a print with an artist from Guizhou, China. Photo: 心奕
MIT Spectrum
Three MIT start-ups that took part in the MT Delta V Accelerator were featured in this article. Below is an excerpt about 2017 D-Lab Scale-Ups Fellow venture Roots Studio:
---
Roots Studio
Rebecca Hui MCP '18 concedes she was an unusual candidate for the delta v accelerator—but she never once felt out of place. "It was fantastic," says Hui, whose company, Roots Studio, digitizes the work of artists who live in isolated and distressed regions and licenses those images for consumer products sold in the developed world. "Coming from a cultural space, it was invaluable for us to steep in an environment focused on marketing, manufacturing, and securing funding. The Trust Center forced us to become concrete and take shape."
An urban planner by training, Hui came to MIT in 2015 after creating and running Toto Express, a school on wheels in India. That project brought teachers to students in rural Bengal villages who were struggling with school attendance. The experience heightened Hui's appreciation for native art and fueled her desire to share that beauty with the world— and to offer indigenous artists a living wage.
Hui's original plan had Roots Studio digitizing the artwork, printing the images on notebooks and posters, and then distributing those products. Her dorm room was overflowing with notebooks when she started at the delta v accelerator in 2017.
She says the accelerator helped her realize that print products were not the right business track to pursue. "Our core assets were the images and the trust we'd built with the native communities," she says, noting that the Trust Center mentors "changed the way we thought about process and scale."
Today, Roots Studio licenses production to companies with scalable manufacturing and existing supply chains. The business has eight full-time employees, more than 40 field workers, and collaborates with more than 1,200 indigenous artists in India, Indonesia, the Middle East, and other regions. The startup also pays artists from 5 to 20 times what they can receive for their work at home.
One long-term company goal, Hui says, is to revive art and craft forms in danger of disappearing. "Many of the artists we meet believe their art forms will die with them," she says. "We've given some of those art forms a market and a future."