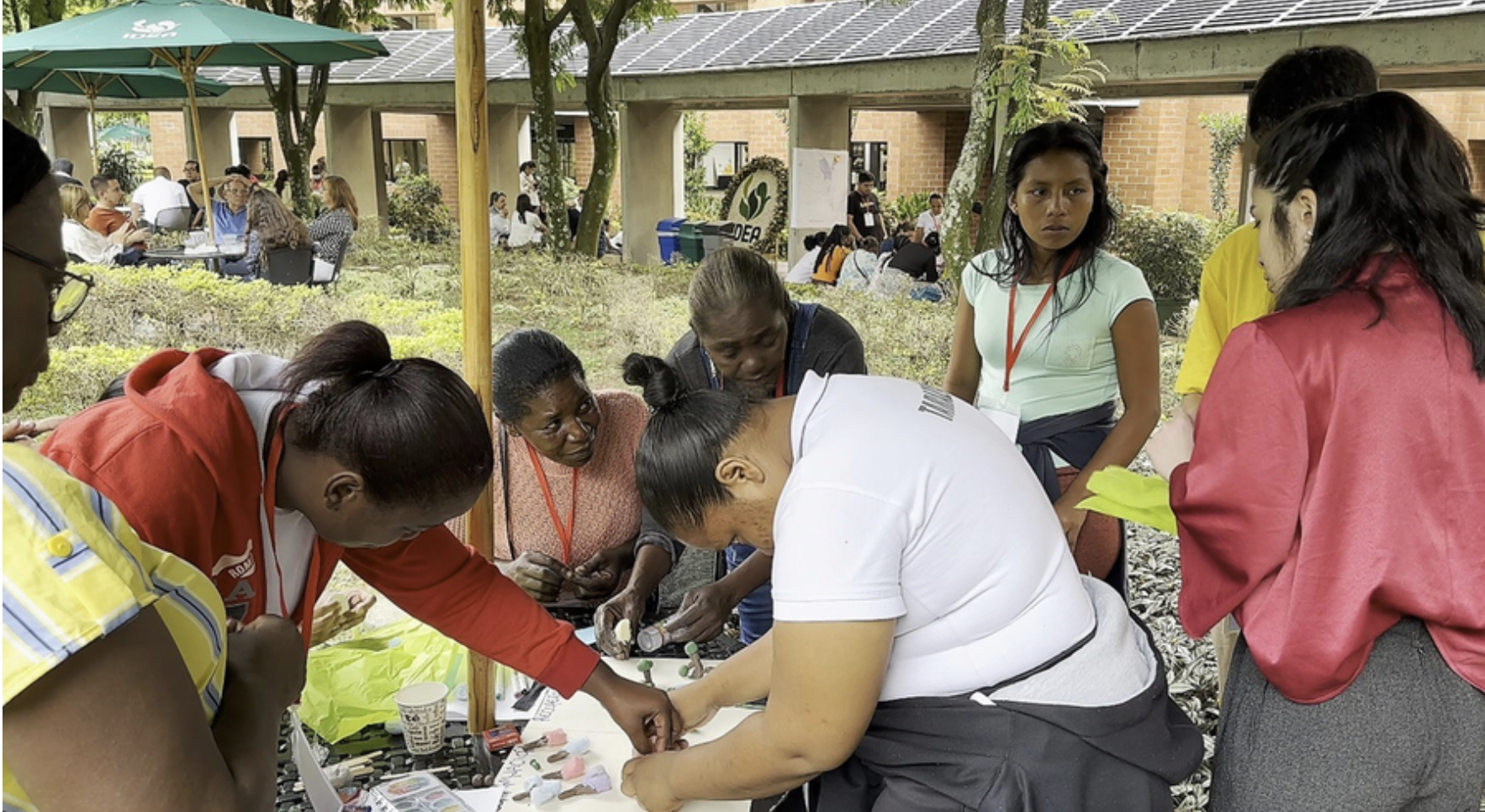 Women engaged in a co-design exercise to address environmental challenges in mining regions at a national conference of women artisanal miners in Medellin, Colombia. Credits: Photo: Fabio Bayona
MIT News
Through a project launched in 2020, MIT D-Lab is working with women to help them build a labor movement focused on reducing gender-based violence and environmental degradation.
In Colombia, approximately 60 percent of gold extraction originates from an informal sector known as artisanal and small-scale gold mining. Among them are "las chatarreras," women who arrive early in the morning at the mines to scavenge and collect rocks or tailings discarded by male miners.
Through a project launched in 2020, MIT D-Lab is working with these women to help them build a labor movement focused on reducing gender-based violence and environmental degradation. Central to the D-Lab's project is their methodology of creative capacity building, which promotes community-driven innovation and solutions.
The Colombian government doesn't recognize las chatarreras as official workers, leaving them without permits and licenses to sell their gold at market value. Often they are left to negotiate with intermediaries, who are known to pressure them for sex. Most women carry young children on their backs as they work in dangerous conditions.
One of D-Lab's achievements, working alongside Colombian partners and the Alliance for Responsible Mining (ARM), was a 2022 conference at which women formed Mujeres Mineras Unidas por Colombia (MMUC), a national organization dedicated to achieving equality in the mines.
"These women are going to make a big change in the mining territories, both in terms of environmental issues and equity for women artisanal miners," says Libby McDonald, D-Lab's inclusive economies specialist. "For them, equality means equal access to mineral, livelihood opportunities, and the end of gender-based violence, whether it's of a physical or economic nature."
In April 2023, the project convened a second conference, drawing more than 148 women miners from 17 Colombian municipalities in Antioquia, Bolívar, Cauca, and Chocó. Other participants included Universidad Nacional's Mining Engineering students; representatives from Southern Methodist University and Colorado School of Mines; Jorge Jaramillo, secretary of mines of Antioquia; and ARM leadership.
Aida Luz Mosquera, a miner who lives in Bajo Cauca, Colombia, is an MMUC leader. She says she got involved with the movement to empower other miners — and herself.
"The changes in my life have been significant," says Mosquera. "I was first trained as a facilitator of movement-building workshops, training women miners on how to overcome gender-based violence. I now also facilitate workshops on managing their businesses."
Building a movement
Gina D'Amato, ARM's director, watched in awe as women at the 2022 conference who lacked the courage to speak even a single sentence out loud soon became outspoken leaders and facilitators of creative capacity building. Many of them led sessions at the 2023 conference.
"The collaboration with MIT D-Lab has given us a big push," said D'Amato. "As a result, the women, who were already working in informal networks, are now less isolated. By communicating, they have discovered that they are strong. We are starting a movement."
At the April conference, women leaders introduced the iterative, collaborative process to conference participants using a classic D-Lab exercise. "We had to stack 10 bananas as high as possible on two pieces of paper," explains Xin Hui Yong, an MIT philosophy PhD candidate. "It was a hands-on activity that gave us the experience of co-creating and designing a tangible solution."
One of the challenges the groups worked on was the toxic levels of mercury at the mines. Some small mining operations in Colombia use mercury for gold processing, despite its polluting effects. Humans and animals can sustain permanent neurological damage from mercury exposure.
"One group's solution was farming an ancestral plant that helps remove mercury from the water. Women could grow it on farms and thus have an alternative livelihood to working in mines," says Yong. "This option would provide much-needed economic diversification while also providing more environmentally friendly mining practices."
An ambitious vision
Mosquera and her cohort set ambitious goals at the conference: Their immediate aim is to support all women miners as they complete the steps to be formally recognized by the Colombian government.
This fall, McDonald is co-teaching EC.718 / EC.798 (G) / WGS.277 (D-Lab: Gender and Development) with Ford Professor of Philosophy and Women's Studies Professor Sally Haslanger. Their students are teaming up virtually with students of Oscar Jaime Restrepo, a professor at Universidad Nacional de Colombia, and Jessie Zaragoza, a professor at Southern Methodist University, to develop a formalization prototype in one mining community in January 2024.
The goal is to scale the prototype to be accessible to all women artisanal miners in Colombia, McDonald says, "With MISTI and OPFER grants, our two institutions and MMUC will have the opportunity to co-create a formalization process that is going to be more easily achievable by this population of miners."
---
More information
Creative Capacity Building for Movement Building with Women Miners - Colombia
Contact
Libby McDonald, MIT D-Lab Associate Director of Practice