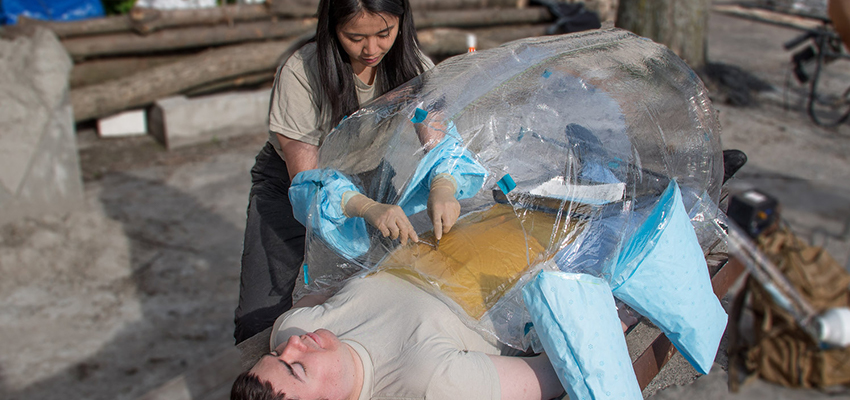 SurgiBox demo. SurgiBox combines the benefits of state-of-the-art operating rooms with comprehensive personal protective equipment, in one ultraportable package
Starthub Boston
Each month as part of StartHub Startups to Watch Program we connect with the winning company to learn more about them.  Our July Startup to Watch is SurgiBox, an ultraportable inflatable surgical environment that fits in a backpack. Recently we had the pleasure of interviewing Dr. Debbie Lin Teodorescu, Founder of SurgiBox.  Here's what we learned:
Tell us about your company. What is SurgiBox?
SurgiBox is the market leader of a novel class of surgical technology which combines the benefits of state-of-the-art operating rooms with comprehensive personal protective equipment, in one ultraportable package. SurgiBox's platform technology integrates seamlessly into surgical workflows to make surgery safer for patients and providers alike.
What is your background?
I am a practicing physician who realized over the course of medical training that I love seeing patients AND also helping to develop novel solutions to challenges that they face, so I cross-trained in biomedical engineering. By this point, in addition to my patient care practice, I have also become seasoned in medical devices more broadly (beyond SurgiBox), having led multidisciplinary benchtop and clinical testing for projects spanning 5 institutions - always inspired by problems that my patients and colleagues brought to my attention. I had helped co-found the Harvard Medical Makerspace Initiative as well as the Crimson Care Collaborative Cambridge site that aimed to care for underserved patients in the community.
How did you come up with the idea for SurgiBox? Who is your target customer?
SurgiBox was, first and foremost, developed as a solution to a problem that we clinicians were facing in the field. It seemed insane that humanity can build the gleaming operating rooms that we enjoy in Boston, yet when we get out of the tiny bits of well-served regions or even in well-served regions after a disaster, all of a sudden your surgical staff have to have towels, squirt bottles, and flyswatters at the ready to battle dust and flies attacking during surgery.
We have learned from prospective customers reaching out to us, as well as our own market analysis, that SurgiBox offers value to several complementary customer segments: NGOs providing surgical care in disaster relief and humanitarian situations, the military, NGOs providing surgical care and surgical capacity building, health ministries of countries interested in advancing level of care in cost-effective fashion, and even surgical entities in higher-income countries (including the US) looking to reduce risk of surgical infections for patients. SurgiBox's strategy is to prioritize by need and sustainability.
How do you think SurgiBox is going to disrupt the market? What are the main differentiators between you and your competitors?
We are transforming the way that people think about a safe, sterile surgery. Before SurgiBox, the paradigm was that protecting the patient means protecting all the space around the patient. We looked at this and said, "No, the real need is protecting the surgical site" - so instead of dealing with an entire room, we just control what is going on at the incision. The fact that the providers are also now a lot safer was a welcome side-effect. We don't need to try to gown up everyone to keep the room clean; we just block potentially infectious patient bodily fluids from ever leaving the surgical field in the first place.
From these humble aims, we worked with an immense number of amazing surgical providers to develop quite a bit of proprietary technology making SurgiBox nearly seamless to use in a procedure, easy and comfortable to use, and incredibly effective. By excluding all the usual sources of contamination that normally exist in an operating room and maintaining finely-tuned control of the surgical field, we leapfrog existing technologies to create beyond-state-of-the-art cleanness - whether in the field or existing operating rooms.
Who are your main investors?
We are staying mum regarding investors until deals get finalized. I can say, however, that to date most of the funding has been founder bootstrapping and money from Harvard President's Challenge; we have been outstanding at making every dollar really count for SurgiBox. We got our first few hundred dollars from the AAAS Science and Human Rights Coalition years ago, after I took a redeye bus ride down to DC to share our groundbreaking proof-of-concept data, and that small amount of prize money actually got us through Generation 2 development.
Why did you decide to start your business in Boston? How long has your company been around?
SurgiBox really is an extraordinarily Bostonian business. This is such a self-consciously no-nonsense startup community, which is rather critical when you're working on something that you hope will have no-nonsense hard outcomes like saving lives. Body bags don't lie. We were fortunate to draw many of our first team members and advisors from the world-leading university, research centers, hospitals, and medical device firms in Boston.
SurgiBox as an idea has been around since around 2011, but only got incorporated in the past year. That, too, is a Bostonian story. When we started out, the medical members of the team obviously knew how critical surgical care is, but it wasn't particularly sexy, so we figured we would make SurgiBox as something that we want to use ourselves. In the succeeding years, Bostonian surgeons including many of our mentors and advisors helped to lead the charge to make Global Surgery a Big Deal on the international arena - including the groundbreaking Lancet Commission which discovered that surgically addressable conditions (obstructed childbirth, resectable cancers, infected gallbladders, post-injury bleeding control, and more; things that most of us take for granted should be easily fixable) kill more people than TB, malaria, and AIDS COMBINED. Between that and getting a lot of spontaneous messages from providers all over the world, we realized by this point that there is a broader demand for SurgiBox - so we started the SurgiBox business in Boston.
What resources in the startup community have contributed to the success of SurgiBox?
MIT D-Lab has been supporting us for the better part of a decade now, as we went through infinite numbers of iterations to tweak and optimize. We are currently also part of MassChallenge Boston which is staying true to its mission as an accelerator. We were fortunate to win Harvard President's Challenge at a critical juncture, giving us the resources and legitimacy to make daring leaps like advancing to Generation 3 systems and taking the first steps to move from research project to company.
How do you use StartHub professionally?
StartHub has been quite a useful resource for keeping abreast of news and events in the community; I particularly like the newsletter.
What are the next steps for SurgiBox?
SurgiBox is now going through human factors testing in advance of regulatory filings. We are engaging with various potential investors and funders for seed funding - it has been particularly gratifying to have the opportunity to discover that, far from a shark-tank environment, we actually see quite a lot of commonality in commitments to sustainable development and mission alignment. One person even explained that SurgiBox was particularly dear to them because of their own experience as an EMT in the past!
What is the most important thing our readers should know about SurgiBox?
SurgiBox is proud to be user-driven innovation. If you have any ideas, questions, insights into potential partnerships, etc, please feel empowered to hit us up at hello@surgibox.org!