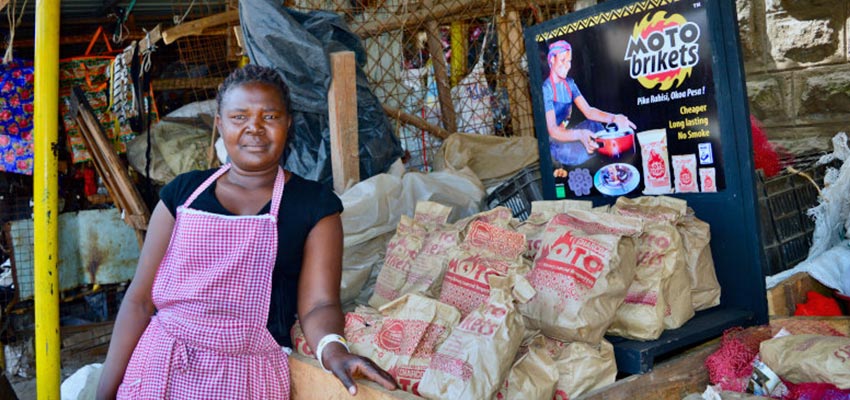 MOTO charcoal briquettes for sale at a kiosk.
How We Made it in Africa
Original interview on How We Made it in Africa
We speak to Chebet Lesan, CEO of BrightGreen Renewable Energy, a Kenyan company that reduces the cost of cooking by producing eco-friendly charcoal briquettes under the MOTO brand. The product is made from post-harvest waste.
1. How did you come up with the idea to start BrightGreen?
In 2015 I finally got around to addressing an issue many African women struggle with. They cook using firewood which is smoky, dangerous, time-consuming and cumbersome. It didn't sit well with me that it was such a struggle to prepare a meal. My grandmother, for example, had a hut that was separated from the rest of the homestead. I learnt later that this separate building was to stop the smoke from being a nuisance to the rest of the household. Around her hut, stacks of firewood were piled high and snakes and poisonous spiders would sometimes be found there. Preparing a meal was a life-threatening affair.
I witnessed this challenge again as an adult, during a programme in Tanzania where I lived in a village at the foot of Mount Kilimanjaro. Our host, a lovely elderly lady, who prepared our daily meals, shared challenges very similar to what I had seen in my family. Realising this challenge replicated itself in other parts of the world solidified my decision to start BrightGreen.
At BrightGreen, we reduce the cost and effort of preparing a meal. Our product is much cheaper (30-50%) than charcoal and firewood. It offers higher heat and longer burning hours and creates a safer and healthier cooking environment.
2. Explain the process of making charcoal briquettes from waste.
We partner with farmers to upcycle post-harvest waste into fuel blocks more commonly known as briquettes. We use fibres like sugarcane bagasse, macadamia husks and rice husks that tend to have the lowest salvage value. Our focus is the quality and price of the product, the most sensitive touchpoints for our target market. Our processes are proprietary and scalable across the continent.
3. Who are your main customers?
BrightGreen targets charcoal and firewood users and reaches them through B2B and B2B2C models. We work with last-mile distributors to get the product to households. We offer visibility and marketing support to retail partners and have door-to-door agents who bundle our products with cookstoves and other household energy products.
4. Who are your competitors?
Our biggest competitors are charcoal and firewood fuels. The wood fuel industry owns more than 80% of Africa's base-of-the-pyramid fuel market. Kenya alone is consuming more than a million tonnes of charcoal every year. We're also seeing many more micro-level competitors in the biomass space. Extensive research and data collection are being done, which is an indication the sector is growing. We have invested time and finances in our product development to differentiate ourselves on parameters like quality, price, switching costs and accessibility. As our market is very price-sensitive, we worked with local and international research institutions like the Kenya Industrial Research and Development Institute, Kenya Forest Service, Kenya Forestry Research Institute and MIT D-Lab to develop a product that will ease barriers to entry and accelerate uptake.
5. Tell us about one of the toughest situations you've found yourself in as a business owner.
One of the early challenges we faced was building a business case with almost zero data. A business plan is a set of assumptions and one of the ways to de-risk these is to base them on quality data. Quality data is up to date, relevant to the region and detailed; we had none of these. Charcoal and firewood are an informal market and processes are seldom recorded. We spent more than a year defining our market, trying to understand the customer, the product and the behaviour. It was an expensive, time-consuming process. Aside from the consumer market, we analysed the wood fuel value chain in East Africa, to identify the gaps and what our profit model would look like. Thankfully, a bit more data is available now which has clarified a lot of our earlier assumptions.
---
Chebet Lesan of BrightGreen Renewable Energy was a 2017 MIT D-Lab Scale-Ups Fellow