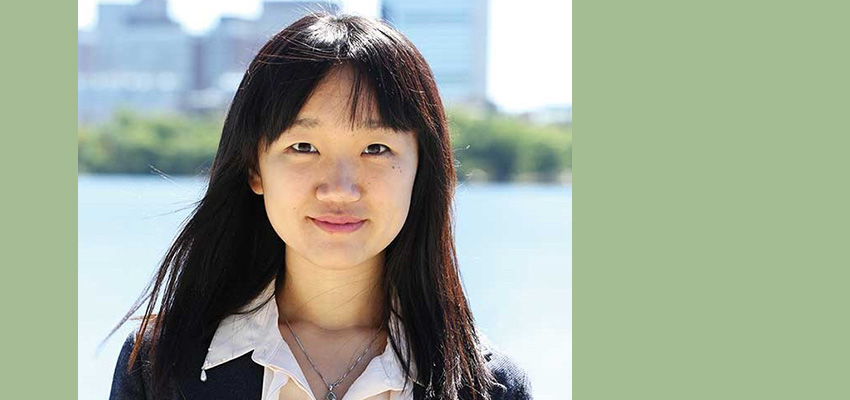 Xiaoyuan "Charlene" Ren, SM '16, SM '17
Technology Review
Original Technology Review article
By conservative estimates, around 60 million people in China still don't have consistent access to clean drinking water. Many of these people live in rural villages, washing clothes and brewing tea with water potentially contaminated by agricultural and industrial runoff. Lack of visibility—and scarcity of data—make this problem especially difficult to map and solve.
During her first semester at MIT, in a class offered by D-Lab [D-Lab: Water, Sanitation, and Hygiene], which focuses on international development, Charlene Ren, SM '16, SM '17, wrote the business proposal for MyH2O: a grassroots volunteer network that could collect data in rural Chinese villages and chart water quality as a first step toward engaging large-scale partners who could deliver clean drinking water. She developed the concept for submission to the MIT IDEAS Global Challenge, and refined it while collaborating with MIT's Tata Center for Technology and Design on plans for a separate project related to a drinking-water and sanitation database in India.
"I'd studied sustainability both in high school [in Beijing] and in college," says Ren, who went to Vassar. "But the approaches were mostly theoretical. At MIT I learned to identify the right problem to solve."
Winning a fellowship from the nonprofit Echoing Green enabled Ren to "take the leap," as she puts it. In 2017, after earning her master's degrees in technology and policy and in civil and environmental engineering at MIT, she returned to China to run MyH2O.
"I planned for rapid growth," says Ren, whose team includes a full-time staff of four in Beijing and some 30 volunteers in China and the United States. "But over time we moved to solving individual cases on the ground—connecting villages to a water tower or creating a filtering system for a town."
"NGO work is challenging in China," she says. "The government sets most development goals from the top down, and we have to find the right way to fit in." Government and industry are already working to scale up central water supply systems in rural communities, she says—but that unified approach can leave some remote villages behind. "That leaves NGOs to fill in the cracks and take on the problems no one else would."
For Ren, the problem MyH2O is tackling is deeply personal. Her parents were first-generation college students who migrated from rural villages and raised her in Beijing. She still has family in the provinces, including her 98-year-old grandmother. "It's a bit ironic," she says with a laugh. "My parents are quite proud of me and what I'm doing. But they're a bit perplexed I'm back working in the type of place they spent their lives trying to get out of."