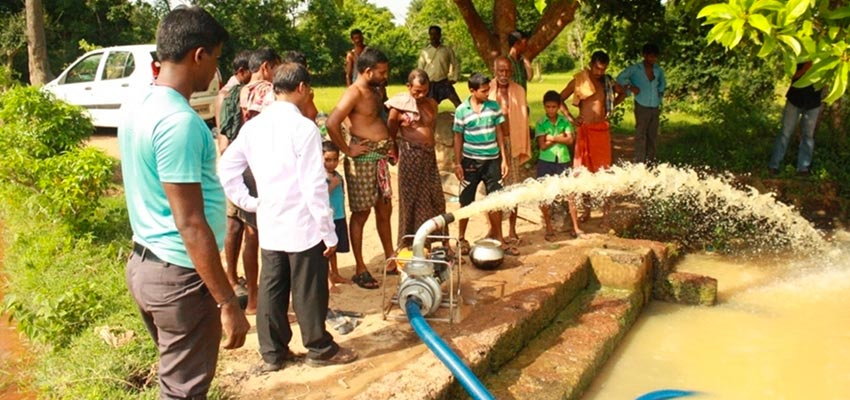 Local farmers test the SEED Jarna pump in the Jalna district of Maharashtra, India. Mitesh Gala, founder SEED, is one of two new fellows, along with Carl Jensen, in the MIT D-Lab Scale-Ups program. Credits: Photo courtesy of SEED.
MIT News
Link to original article on MIT News.
Mitesh Gala and Carl Jensen will each receive a $20,000 grant and a year of mentoring as D-Lab Scale-Ups fellows.
In Maharashtra, India, individual farm size is shrinking, distance to water sources is increasing, and access to electricity is unreliable. As a result, millions of smallholder farmers are in need of a portable and fuel-efficient irrigation pump. Mitesh Gala, one of two new D-Lab Scale-Ups fellows, has developed such a pump. Made entirely from aluminum, Gala's Jarna pump weighs in at only 35 kilograms, and at three horsepower consumes diesel fuel at about 0.70 liters per hour.
In Zambia, the poorest subsistence farmers are losing more than 17 percent of their grain harvests. Why? Because current methods of storing grain neither protect against grain-boring insects nor mitigate the effects of typically wet conditions, high temperatures, and fluctuating relative humidity. New Scale-Ups fellow Carl Jensen and his partner Sunday Silungwe founded Zasaka to address this issue by introducing the Purdue Improved Crop Storage (PICS) bag, which virtually eliminates post-harvest grain loss and can increase farmer income by as much as 10 percent.
As D-Lab Scale-Ups fellows, Gala and Jensen will each receive a $20,000 grant and tailored mentorship and skills-building opportunities. The program also connects fellows with D-Lab's valuable and growing international network of innovators and entrepreneurs, which includes alumni of the Scale-Ups fellowship program and of D-Lab's 16 courses, participants from the annual MIT Scaling Development Ventures conference, and MIT's extended family of individuals and companies committed to improving the lives and livelihoods of the world's poorest people.
Founded in 2011 with support from the Abdul Latif Jameel Community Enterprises, the yearlong Scale-Ups fellowship program was originally open only to MIT alumni. Today, with additional funding from the International Development Innovation Network (IDIN) — headquartered at D-Lab and funded by the U.S. Global Development Lab — Scale-Ups is able to offer fellowships to IDIN members like Gala and Jensen as well. Previous Scale-Ups fellows from the IDIN network include Zubaida Bai, founder of ayzh, which has sold 50,000 of their clean-birth kits in India, Haiti, Laos, Afghanistan, and Africa; and Suprio Das, inventor of the groundbreaking Zimba water chlorinator. To date, Scale-Ups has supported 18 social entrepreneurs working on four continents in sectors including agriculture, energy, water, healthcare, housing, mobility, and recycling.
Over the course of the 12-month fellowship, Gala and Jensen will continue to refine and improve their products and work to position their ventures for investment, partnership, and growth. "A successful pilot will prove that our product does have a market and that our sales and distribution channel can be replicated in other regions in the country. We hope to achieve these results through this fellowship grant," says Gala.
Gala is well placed to achieve these goals. He holds a master's degree in electrical engineering and an MBA from Colorado State University's Global Social and Sustainable Enterprise program. While a graduate student, he began developing the Jarna pump, and in 2009 he founded SEED, a for-profit social enterprise with a mission to increase incomes of rural farmers by developing affordable and sustainable conservation services and products. He has lived in India since 2010 in order to gain deeper insight into the needs of smallholder farmers and to establish an operational team and parts manufacturing for the pump. With an initial focus on the market of 370,000 smallholder farmers in Maharashtra's Jalna district, Gala's intent is to replicate the SEED model with tribal farmers living in mountainous and forest regions, as well as other marginal farmers.
Like Gala, Jensen has the experience to move his venture toward scale. An entrepreneur with deep roots in agriculture, he completed a Master of Science degree in International Agricultural Development at the University of California at Davis, with research in integrated soil fertility management and an emphasis in entrepreneurship. "With the support and mentorship provided by the D-Lab Scale-Ups program, we are better able to integrate our programs, streamline supply chains, and establish a bigger and bolder strategy for helping farmers grow," says Jensen. "With seasonal demand and price spikes for maize and other dry grains driving sales, we are entering the market at an opportune time for a runway period in 2014 and a large scale up in 2015."
The next deadline for the D-Lab Scale-Ups fellowship applications will be in April 2015. MIT and IDDS alumni seeking to bring hardware-based, poverty-alleviating products and services to market at scale are eligible to apply.