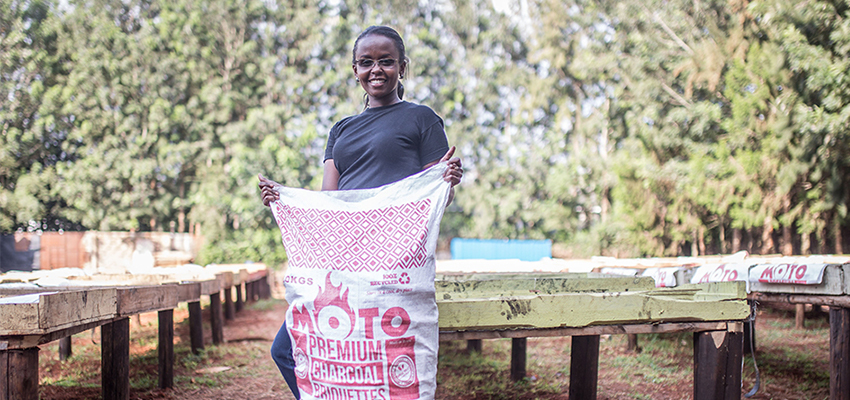 D-Lab Scale-Ups Fellow Chebet Lesan holds a bag of her company's innovative charcoal briquettes, which are made from recycled waste. Lesan is the founder and CEO of BrightGreen Renewable Energy, which provides affordable, clean, safe, and eco-friendly charcoal briquettes for low-income households in Kenya.
MIT News
2017 D-Lab Scale-Ups are tackling energy access, small farm irrigation, portable medical diagnostics, online education, and support for local artisans.
Six social entrepreneurs who are addressing pressing poverty challenges through market-based approaches have been selected for this year's MIT D-Lab Scale-Ups Fellowship, which is open to both MIT graduates and alumni of the D-Lab-affiliated International Development Design Summit (IDDS).
The 2017 fellows include Tunde Alawode PhD '17, Honey Bajaj SM '17, and Rebecca Hui MCP '17, as well as three IDDS alumni: Abraham Salomon, Sebastian Rodriguez, and Chebet Lesan.
"I'm excited to be selected as a 2017 D-Lab Scale-Ups Fellow," says Lesan, the founder and CEO of BrightGreen Renewable Energy, Ltd. in Kenya. "This fellowship will provide a wonderful opportunity for me to pursue my vision to increase the engagement of women in Kenya's green energy sector."
Lesan joins a growing community of more than 30 current and former participants in the D-Lab Scale-Ups program, which offers one year of comprehensive support to social entrepreneurs.
"With MIT alumni fellows as well as fellows from our global network, the Scale-Ups Fellowship is a great example of the way D-Lab brings the MIT community together with innovators and entrepreneurs in the developing world," says the D-Lab's Jona Repishti, who manages the fellowship program.
During the yearlong program, D-Lab Scale-Ups fellows work to retire risk in technical feasibility and market viability to position their ventures for investment, partnership, and growth. Each social entrepreneur receives a $20,000 grant, tailored mentoring, skills building, networking opportunities, and an invitation to participate in a retreat for current and past fellows. Fellows are also encouraged to take full advantage of D-Lab courses, students, instructors, researchers, industry contacts, the D-Lab workshop, and the D-Lab's global network of innovators, entrepreneurs, and industry contacts.
Now in its sixth year, the D-Lab Scale-Ups program has provided fellowships to 33 social entrepreneurs working on four continents in sectors including agriculture, energy, water, health care, housing, livelihoods, mobility, recycling, education, and personal finance. At the close of last year's cycle, Scale-Ups Fellows had raised $11.4 million in capital, created over 343 direct and 3,278 indirect full-time equivalent jobs, and directly improved the lives of an estimated 700,000 people living in low-income settings through their product and service offerings.
Tunde Alawode: dot Learn, Nigeria
Tunde Alawode is compressing video to increase access to online education. The co-founder and chief operating officer of dot Learn, Alawode is working with his team to make video-based online education accessible and affordable on cheap smartphones and 2G connections, the devices and connections most commonly used in Africa. Their tagline is "We compress videos to expand education."
By encoding chalkboard-style learning videos, such as those created by the Khan Academy, in a text-based vector format, dot Learn is able to put an hour-long video into a tiny 1 megabyte file. By encoding video as text rather than pixels, file sizes are hundreds of time smaller, and a student can access five hours of video for the cost of sending a single text message. This makes online video learning practical and affordable for the first time to millions of students across Africa. "That is game-changing," says Alawode. "With this technology, dot Learn is building Africa's education platform in the form of apps."
Honey Bajaj: Avir Technologies, India
Honey Bajaj is developing a low cost, clinically-validated mobile app for accurately diagnosing the most common types of pulmonary disease. Bajaj and the Avir Technolgies team have deep expertise in human-centered design to help patients and digitally-illiterate health workers understand test results and at-home care solutions. Bajaj will use the fellowship to advance work on Swas, a mobile solution that uses proprietary, clinically validated technologies to accurately diagnose the most common types of pulmonary disease.
Swas was specifically designed for rural health workers and low-income patients who lack familiarity with pulmonary disease and the use of sophisticated medical technology. Requiring only a mobile app and a complementary device to diagnose pulmonary symptoms, Swas is both low-cost and easy to use. It will initially include only an asthma diagnostic solution, but each license will include software updates which will allow the tool to diagnose other pulmonary diseases (such as chronic obstructive pulmonary disease or COPD, pneumonia, tuberculosis), and will eventually integrate with diagnostic tools in other disease areas to deliver individualized health recommendations to patients on a simple mobile phone.
Rebecca Hui: Roots Studio, India and other locations
Rebecca Huis is creating a digital marketplace where tribal artists can access licensing and intellectual property rights. Her venture, Roots Studio, is creating a digital marketplace that enables isolated rural artists living on less than $1,000 per household per year to do business with buyers around the world. Through Roots Studio, artists who previously had little opportunity to profit from their work in the global marketplace are able to both digitize and license their work. That allows them to benefit from long-term royalty streams and protect their intellectual property rights.
At a cost of about $1,000, Roots Studio installs a computer and scanner in a village to enable artists to digitize their art and post to Roots Studio online. Once the art is uploaded in their cloud repository, Roots Studio markets the collection to clients, such as stationery and home goods companies, around the world. Roots Studio gives back 30 percent of the gross profits, with 75 percent going to the artist and 25 percent to a village community fund. By creating income streams for rural artists, Roots Studio hopes their work will contribute to the dissemination and preservation of indigenous art forms, imagery, and techniques.
Chebet Lesan: BrightGreen Renewable Energy/Moto Briquettes, Kenya
Chebet Lesan is bringing affordable, cleaner-burning, and eco-friendly charcoal briquettes to low-income households in Kenya. Her women-led social enterprise, BrightGreen Renewable Energy, designs, produces, and sells innovative briquettes made from recycled waste such as captured char fines, carbonized sawdust from lumber industries, and waste flour from local flourmills. Lesan says BrightGreen will continue to iterate its product by testing new raw materials.
"With assistance from MIT D-lab, KIRDI, Energy 4 Impact, and University of Nairobi, the quality of our briquettes continues to be tested for bulk density, calorific value, fixed carbon, volatile matter, briquette durability, briquette moisture absorption, briquette moisture content, and ash content," she says. "Our goal for this next year is to work closely with MIT D-lab to improve accessibility of recycled charcoal briquettes to local communities through developing a micro-distribution system of women entrepreneurs doing last-mile distribution in low-income areas in Nairobi City."
Sebastian Rodriguez: KopaGas, Tanzania
Sebastian Rodriguez is bringing digital technology to liquefied petroleum gas (LPG) distribution in order to accelerate access to clean cooking fuel for millions of households. More than 727 million people (four of every five households) in Sub-Saharan Africa use wood or charcoal for cooking their daily meals. Because cooking on an open fire is equivalent to being exposed to the smoke of 400 cigarettes per hour, contributing towards over 4.3 million deaths per year worldwide, it is essential to increase access to affordable cleaner-burning fuels.
Using mobile money technology and a proprietary smart meter that can be attached to refillable cylinders, Rodriguez and the team at KopaGas are digitizing LPG distribution, enabling a pay-as-you-go business model. KopaGas has completed a commercial pilot in Dar Es Salaam Tanzania in close collaboration with Oryx Tanzania, giving each participating household access to a kit consisting of a stove, an LPG cylinder, a meter, and accessories, after payment of a small commitment fee. The household then pays for the service using mobile money and their meter automatically stops the gas flow when the credit or the gases in the cylinder are depleted. The pilot has shown a number of benefits including high consumer satisfaction, better user understanding of consumption, improved asset management, and a reduced need for cash management.
Abraham Salomon: Agriworks, Uganda
Abraham Salomon is providing irrigation solutions to small commercial farmers, who need technology that is powerful enough for commercial-scale production but that has low upfront investment costs and requires minimal technical know-how.
Private companies have traditionally been reluctant to invest in R&D and marketing for this customer segment. Salomon, the founder and chairman of Agriworks Uganda, is addressing this need by reducing the capital cost of irrigation systems through modular, easy-to-use, and easy-to-maintain mobile systems that can be shared by multiple farmers. Known as the Agriworks Mobile Irrigation System (AMIS), the water delivery system includes all the components needed to set up, irrigate a plot, and take it home again in a matter of hours. The AMIS is sized and designed to operate at small commercial scale, targeting smallholder farmers in Sub-Saharan Africa, a substantial but neglected market.
Building on MIT's ecosystem for social entrepreneurship
Many of the MIT Scale-Ups Fellows are the product not only of D-Lab, but of the wider MIT ecosystem for international development, innovation, and entrepreneurship. With programs like the Priscilla King Gray Public Service Center and the IDEAS Global Challenge, the Legatum Center for Development and Entrepreneurship, the MIT Innovation Initiative, the Martin Trust Center for MIT Entrepreneurship, and the 100K competition, MIT graduates who pursue social ventures have been able to take advantage of a myriad of educational, mentorship, and funding resources.
"MIT Scale-Ups fellows are a great lens through which to experience the impressive and growing ecosystem of support for social entrepreneurship at MIT," Repishti says.
Alawode, the co-founder of dot Learn, is a great example. 
"Dot Learn was created in the Development Ventures class in fall 2015, and our first real break was when we pitched to Pedro Reynolds-Cuellar when he was teaching D-Lab: Education," says Alawode. "He offered us flight tickets to go for our very first market research trip in Ghana. Beyond that, we got the even more valuable network of contacts D-Lab has built in Ghana over the years. Over the course of last year, we also participated in D-Lab-supported programs such as the Scaling Development Ventures Conference and the IDEAS Global Challenge. We also particularly recognize the support we have received from the Legatum Center and the Martin Trust Center for Entrepreneurship."
Founded in 2012 at MIT D-Lab with support from Community Jameel, the Scale-Ups Fellowship Program has received additional funding from the International Development Innovation Network (which is funded by the USAID's Global Development Lab). D-Lab Scale-Ups also receives generous support from the Newman's Own Foundation and anonymous donors.
To find out more about the program, visit the D-Lab Scale-Ups Fellowship page or contact Jona Repishti.