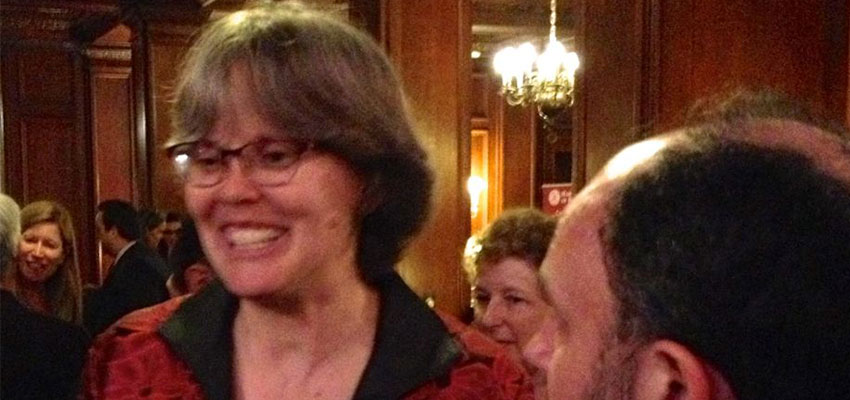 D-Lab Founding Director Amy Smith at the Harvard Club of Boston receiving "Boston's Most Influential Women" award.
MIT D-Lab
On April 23, D-Lab founder and co-director Amy Smith was honored as one of "Boston's Most Influential Women" by the Women of the Harvard Club Committee. A festive gala at the Harvard Club in Boston marked the occasion where 10 accomplished women who have created circles of access and influence in the areas of business, law, science, healthcare, philanthropy, government and academia were recognized.
The committee stated that, "Each honoree, whether affiliated with a national corporation or from a local community, exhibits excellence in their demonstrated leadership, outstanding achievements and the enduring positive effects of their influence."
Amy's comments for the occasion:
What makes an inspirational women?
Swarnika, a young engineering student from India, was sharing with me the gender discrimination that she experiences at her university. She cannot leave campus on the weekends without special permission, and is fingerprinted as she comes and goes. She cannot participate in certain activities because they meet at night, and she is not allowed to go out after 7 pm. And she has nearly been expelled for protesting against this system.
She is passionate, she is inspirational, but she is not influential. She is speaking out to a system that is not listening. I asked how I could help. She mentioned that her school was very interested in working with my program, and that maybe I could be an advocate for her cause. It made me think about the conversations I could have with school administrators, which are conversations that she could not.
It also made me reflect on the influence I can and want to have, and gave some answers to the question:
An influential woman can help give a voice to those who are forced to be silent.
An influential woman can help bring equity and compassion to those who have been unfairly ignored.
An influential woman can help empower those who have been disenfranchised.
An influential woman can help provide inspiration and direction to those who might be feeling lost.
I'm sure there are many other answers to the question, but these are a few ways that I would hope to use whatever influence I may have acquired through my life and my work so far.
---------------------------------------------------------------------
In addition to Amy, the other honorees included:
Stephanie Sonnabend, President, Sonesta International Hotels Corporation, and Co-Founder and Chair, 2020 Women on Boards
Helen Drinan, President, Simmons College
Aileen Gorman, Executive Director, The Commonwealth Institute
Peggy Kemp, Headmaster, Fenway High School
Sandra Moose, Senior Advisor, The Boston Consulting Group
Betsy Myers, Founding Director, Center for Women in Business, Bentley University
Diane Patrick, Esq., First Lady of the Commonwealth of Massachusetts and Partner, Ropes & Gray
The Honorable Emogene Johnson Smith, Presiding Justice, Wrentham District Court
Valerie Stone, MD, Director, MGH Primary Care Internal Medicine Residency Program and Associate Chief, MGH General Medicine Division

Congratulations to Amy and all those acknowledged by this award!