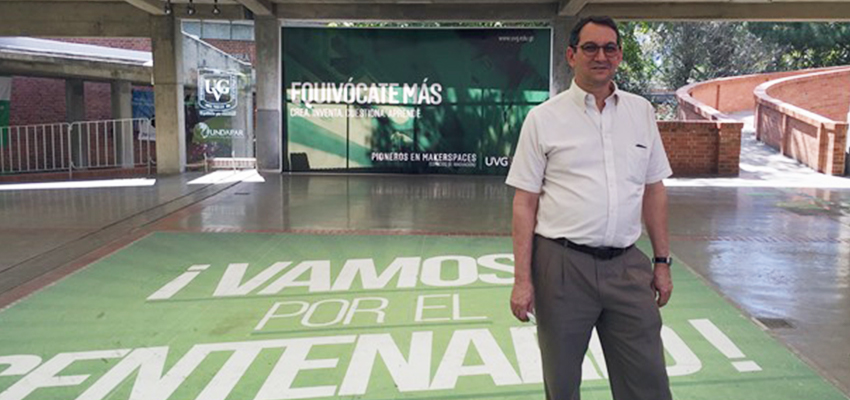 Bob Nanes visits the University of the Valley of Guatemala.
Prensa Libre
(Translation from Spanish original)
The University of the Valley of Guatemala, UVG, was visited by Bob Nanes, executive director of the D-Lab of the Massachusetts Institute of Technology (MIT).
The MIT D-Lab is a laboratory that is focused on working together with people around the world to develop solutions to issues that revolve around poverty in developing countries.
Its education program teaches undergraduate students to develop solutions to solve poverty issues.
They carry out around 15 classes a year in which between 200 and 250 students participate. Almost half of them travel to developing countries to do a project during a semester of classes.
In their space and workshops they make prototypes focused on the design process and use design thinking to focus on this type of problem. During the research they focus on green energy and renewable energy especially for different uses
Through the Innovation Network for International Development (IDIN) they work with groups such as the University of Valle de Guatemala and Link 4 and help them develop an innovation ecosystem so that people can innovate in different spheres such as: education, development of the community, business, product solutions. They also work with some large corporations and NGOs.
They offer scholarships for people who have developed ideas for businesses, these are for young people who have just finished the undergraduate degree who have an idea for a business that serves to help people who are in poverty.
During the visit, details of the next "Sustainable Homes" Summit were presented, which will be held in June of this year at the Altiplano Campus of UVG in Sololá. "These summits are Design Seminars for International Development (International Development Design Summit). It is something that the D-LAB has been promoting for some years. I think we have done or participated in about twenty, "explained Nanes.
The director added: "People from different countries will participate, mostly from Guatemala, but also people of different profiles so they can be university professors, farmers, teachers, business people, etc. Together they will go to a community and work with community members to develop solutions that are in accordance with the needs of people living in poverty in those communities. So it is like gathering a large number of different minds with different approaches, so that together you can come up with some interesting solutions. Given that the focus will be on sustainable homes, I think we will be seeing a number of different things, related to topics such as cooking, water, etc. that are important for sustainable development in a community. "
"This university has accepted in depth the idea that the way for the country and for its contribution to move the country forward is not only to innovate, but to teach innovation. If we are going to move forward we have to think about new ways of doing things. I have known the highest authorities of this university, teachers and students and it is clear that throughout the university they are all in the same line and there are very exciting things happening here: a plan for a new Innovation Center, a new building and makerspaces I'm very encouraged by that and by the associations that are looking outside the university, so yes, it's a great visit and I have to give a lot of praise to the people who work here at UVG, "Nanes concluded.