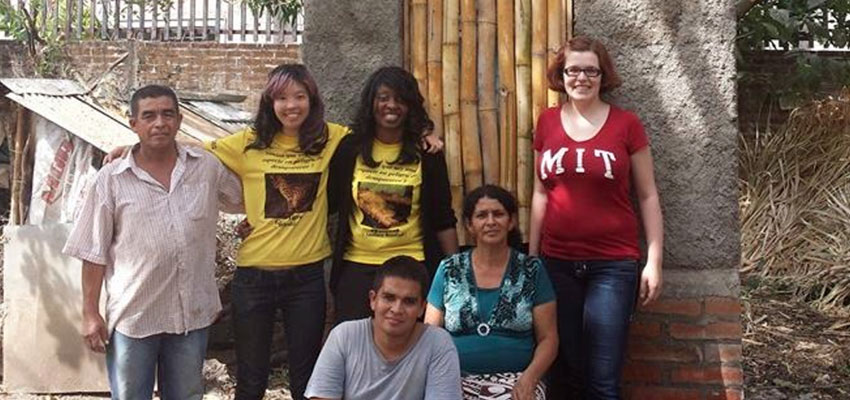 Elaine Kung '15 (second from left) and D-Lab instructor Libby Hsu (far right) with other members of the MIT and Salvadoran team in front of a newly completed compost toilet. In August, with support from MIT Tau Beta Pi, Kung will continue work she began with a D-Lab team on the redesign of a compost toilet for the Salvadoran rural health organization ASAPROSAR. Photo: Courtesy of MIT D-Lab.
MIT News
Continuing work begun on a D-Lab trip, Kung aims to reduce the costs and labor required to produce compost toilets in El Salvador.
Link to original article on MIT News
Recent MIT graduate and new MIT D-Lab alumna Elaine Kung '15 has been awarded $5,000 by the MIT engineering honor society Tau Beta Pi to continue work on the design and implementation of compost toilets in Santa Ana, El Salvador. Working with longstanding D-Lab community partner ASAPROSAR, a Salvadoran organization focused on rural health, Kung's goal is to reduce the cost of materials and manual labor needed to produce compost toilets, thereby making them more affordable for the local community.
The World Bank estimates that 52.6 percent of El Salvador's rural population lacks access to a clean, safe toilet, and drinking water supplies are affected by poor sanitation. This is true for many of the families living in the rural communities of Santa Ana, and ASAPROSAR has been working to address the problem. However, their design of a compost toilet with low environmental impact was too costly to be widely distributed.
In January during MIT's Independent Activities Period (IAP), Kung, D-Lab instructor Libby Hsu, and other MIT and Wellesley College students from the D-Lab: Development course traveled to Santa Ana to work on ASAPROSAR's compost toilet design, reducing its construction cost and involving community members in an exploration of innovative materials and construction techniques.
"Over IAP, I understood first-hand the importance of doing international development work at the location where your project will be implemented and building up a relationship with the NGO and the local community," Kung says. "It's crucial to understanding the lives of people whom your project will be affecting, talking to people in person and getting feedback, making use of local knowledge about the topic, and fully understanding the context and impact of your project."
In August, Kung will continue work she began with the D-Lab: Development team in January. In order to reduce further reduce the cost of materials, Kung has proposed making batches of concrete and adobe bricks that incorporate local plant materials and waste materials such as sugarcane bagasse. She will test these mixed materials in order to determine if they are suitable for future compost toilet structures. In addition, she will work to improve the dissemination of knowledge about the use of alternative materials and building methods for toilets by holding workshops for families in the rural communities and at-risk youth at the local after-school program. "It's really meaningful to me to be able to continue the work I did with D-Lab over the fall semester and IAP," Kung says, "because it helps ensure that this project will be able to have a greater impact and be sustainable in the long term."
Hsu is enthusiastic about Kung's continued work in Santa Ana as well: "I am so pleased that Elaine has chosen to spend her summer carrying this important project forward with D-Lab and ASAPROSAR." Hsu adds, "D-Lab has collaborating with ASAPROSAR since 2011 on projects that improve the livelihoods of women, children, and families living in poverty, and I'm grateful to Tau Beta Pi for making it possible to continue this work."