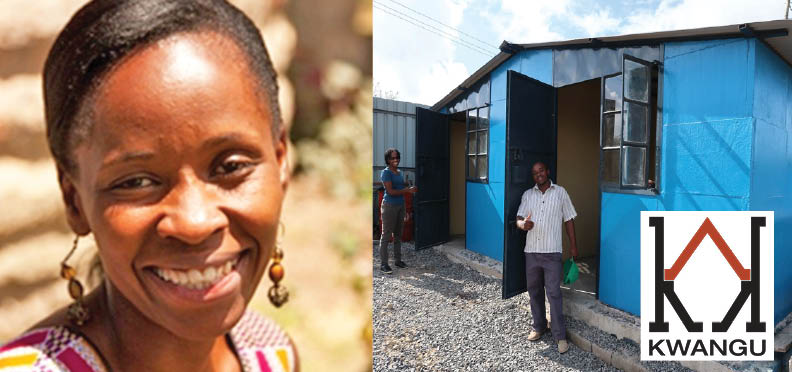 MIT News
The one-year Scale-Ups Fellowships program provides each fellow with a $20,000 grant and support tailored to address their specific needs.
The MIT D-Lab Scale-Ups Fellowship program, which offers one year of support to social entrepreneurs bringing poverty-alleviating products to market at scale, has announced its six fellows for 2019. This year's fellows include the founders of homegrown, high-impact ventures in underserved markets in Kenya, Tanzania, and Uganda.
"I look forward to learning from — and sharing with — other D-Lab Scale-Ups Fellows and the team at MIT, and to establishing a strong and reliable network to accelerate our growth," says Peter Nyamai, founder of the Global Expressions Group in Kenya and a new fellow in the program.
All six founders are native to and currently living in their markets.
"We are excited to work with a vibrant cohort of East African entrepreneurs whose expertise is grounded in their lived reality," says Jona Repishti, who manages the fellowship. "Working with local founders has certain advantages — they reflect the demographics of the markets they serve; their lived experience helps them identify unique, scalable, market-based solutions overlooked by outsiders. What's more, they are more likely to commit for the long haul, developing local talent and infrastructure along the way."
During the yearlong program, the D-Lab Scale-Ups Fellows work to retire risk and position their ventures for investment, partnership, and growth. Each social entrepreneur receives a $20,000 grant, tailored mentoring, skills building workshops, and networking opportunities. They also participate in a fellows' retreat, this year taking place at D-Lab in early May.
"As individuals and as a cohort, these fellows have great change potential for their regional ecosystems," Repishti notes. "And by bringing them into D-Lab and the broader MIT community, we hope to advance not only their ventures, but also the D-Lab and MIT approach to social entrepreneurship."
Launched in 2012, the D-Lab Scale-Ups fellowship has supported 39 fellows working on four continents in sectors including agriculture, energy, water, health care, housing, mobility, recycling, education, and personal finance. At the close of last year's cycle, Scale-Ups fellows had raised $11.1 million in funding, generated $10.2 million in revenue, created over 700 direct and 6,700 indirect full-time equivalent jobs, and reached 1.5 million people living in low-income settings with their product and service offerings.
"Over the course of the 12-month fellowship we tackle the knowledge gap by putting fellows in the driver's seat," Repishti explains. "Our entrepreneurs guide us to provide support that is tailored to address their pain points, delivered fast, and focused on the essentials. Our curriculum is experiential, dynamic, and focused on transforming mindsets, just capabilities."
This year's D-Lab Scale-Ups Fellows are:
Winnie Gitau (Kenya)
Winnie Gitau is founder of Kwangu Kwako, which provides safer, healthier, and more secure housing alternatives to the traditional informal settlement structures in Kenya. To do this, they use reinforced pre-cast concrete panels made by local artisans within the community. The outcome is a safer, simpler and more cost-effective alternative to the existing Mabati structures, which are temporary homes built from corrugated iron sheets and bush poles.
This summer, as part of her fellowship, she says she will have the opportunity to work with a D-Lab monitoring and evaluation fellow to figure out "little measurable ways to gauge" the human impact of Kwangu Kwako's work, in other words: "how to best measure our impact besides the number of houses or units sold."
Dysmus Kisilu (Kenya)
Dysmus Kisilu, winner of a 2018 Gates Foundation Goalkeeper Award, is the founder of Solar Freeze, a Kenya-based enterprise that has pioneered mobile cold storage units powered by renewable energy to help rural smallholder farmers reduce postharvest loss. In many developing countries, postharvest losses are as high as 80% and the cold‐storage chain is virtually non‐existent due to high equipment costs and spotty electricity. Solar Freeze has provided solar-powered irrigation kits and cold storage devices to more than 3,000 farmers.
Christian Mwilage (Tanzania)
"I expect to gain connections, partnerships, knowledge sharing, and training that will help us strengthen and scale our project," says Christian Mwijage, the founder of EcoAct Tanzania. EocAct is a for‐profit social enterprise that has developed a chemical-free and energy-conserving technology which transforms post-consumer waste plastics into durable plastic timbers for use in construction. EcoAct plastic timber is an affordable alternative to traditional timber, reduces the need for building material manufactured from wood, and helps to preserve forests and mitigate climate change.
Peter Mumo Nyamai (Kenya)
Peter Mumo Nyamai is the founder of Expressions Global Group, a social venture which supplies innovative, durable, and environment-friendly rainwater harvesting products to improve irrigation and boost productivity among rural smallholder farmers in Kenya. In addition to its product line, Expressions Global links farmers to the affordable credit and ready markets for fresh produce. "We are at a point of growth where we needed help in fine-tuning key segments of our venture," Nyamai says, "and the MIT D-Lab Scale-Ups Fellowship offers not only a cocktail of everything we needed, but a chance to be part of community driven by a shared purpose: to make a better world through education, research, and innovation."
Chrispinus Onyancha (Uganda)
"Winning this fellowship is a big confirmation," says Chrispinus Onyancha, CEO of clinicPesa, a platform established to provide access to health care financing to individuals in East Africa to offset medical bills and buy medications at any clinicPesa-registered clinic, hospital, or pharmacy. "We strongly believe that creative health care financing should be among key priority focus areas, especially for marginalized groups in Africa where infant mortality rates are so high and over 20 million people per year till die of preventable and treatable conditions such as malaria."
Prince Prosper Tillya (Tanzania)
Prince Prosper Tyllya is the founder and managing director of FixChap, a digital platform in Tanzania through which clients can book repair requests and get connected instantly to verified local handymen, sourced from vocational training institutions. "Winning the fellowship is an incredible milestone for us," Tillya says. "I hope the fellowship will take our venture to a whole new level on every aspect which will enables us to increase our impact and touch more lives." FixChap benefits clients such as homeowners and businesses by providing reliable and competent services while providing a stable income to the handymen.
To find out more about the program, visit the D-Lab Scale-Ups Fellowship page or contact Jona Repishti.
---
For more information
MIT D-Lab Scale-Ups Fellowship overview
Contact
Jona Repishti, MIT D-Lab Social Entrepreneurship Manager