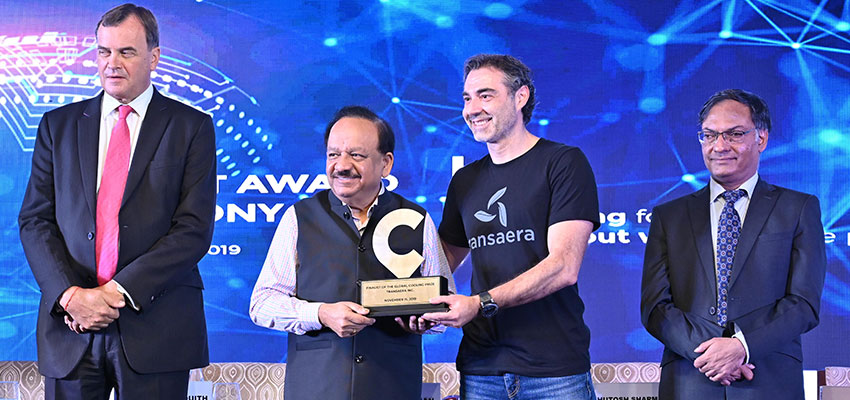 D-Lab Instructor Sorin Grama (second from right) Co-Founder and CEO of Transaera, aceepts finalist award for the Global Cooling Prize.
MIT D-Lab
Global Cooling Prize press release
On Friday, November 15, MIT D-Lab Instructor Sorin Grama's venture Transaera was named a finalist for the Global Cooling Prize, an international innovation competition to develop super-efficient and climate-friendly residential cooling solutions for homes.
Transaera is developing a hybrid cooling solution with desiccant dehumidification technology based on novel materials discovered at MIT to solve the cooling challenge. The cooling solution is designed to operate a high-efficiency room air conditioner in parallel with a moisture storage battery (MSB) to provide cooling and dehumidification while using dramatically less energy than typical room air conditioners sold today.
By separating the temperature and humidity control processes, this air conditioner has the potential to reduce the energy consumption significantly while providing the desired comfort level. Humid air is difficult to cool because of the large amount of water vapor in the air. Transaera's Moisture Storage Battery (MSB), comprising of a novel desiccant material, has the capacity to absorb a large amount of moisture allowing room air to dehumidify. Dry air is easier to cool with the high-efficiency AC unit, thus reducing the overall electricity consumption. Additionally, while typical desiccant materials require a high-temperature source for regeneration, the MSB material can regenerate using waste heat from the vapor compression system as and when it gets saturated, thus reducing the energy consumption of the overall solution. The system also has a provision for direct evaporative cooling of air at the condenser inlet to improve condensing efficiency, a small integrated solar PV panel and battery to reduce grid-consumption and collects rain-water for use to improve the overall environmental impact of the solution.
Sorin Grama, Co-Founder & CEO of Transaera, also co-founded and served as CEO/CTO of Promethean Power Systems, a manufacturer of thermal energy storage systems for refrigeration and cold-storage applications. Sorin was the principal inventor of Promethean's thermal battery, an energy storage device that provides effective backup in areas with unpredictable grid power. Dairy farmers and processors in rural India are using this battery to chill milk at village collection centers. Sorin's company was also one of the four founding companies of Greentown Labs, a grassroots effort that has grown to become the nation's largest cleantech incubator. He currently serves on the Promethean board. He is a co-instructor for the D-Lab courses D-Lab: Design and Design for Scale. Sorin is a former entrepreneur-in-residence at the Martin Trust Center for MIT Entrepreneurship and the Legatum Center for Development and Entrepreneurship where he brought the experience of starting and scaling a hardware business in a developing economy. Sorin is trained as an electrical engineer and holds an MS in Engineering and Management from MIT (SDM '07). He is originally from Romania.
In addition to Transaera, the finalist teams include Gree Electric Appliances Inc. of Zhuhai, Daikin AirConditioning India Private Ltd., and Godrej and Boyce Mfg. Co. Ltd.; start-ups and corporations, including S&S Design Startup Solution Pvt. Ltd., M2 Thermal Solutions, Kraton Corporation; and Barocal Ltd, a new spin-out from a University of Cambridge lab. The finalists have been awarded $200,000 each to develop and ship their prototypes to India for testing in the summer of 2020.
A global coalition led by the Department of Science and Technology, Government of India; Rocky Mountain Institute (RMI) — a leading global research institute; and Mission Innovation — a global initiative of 24 countries and the European Union to accelerate global clean energy innovation — launched the Global Cooling Prize in November 2018 with the aim of spurring the development of a radically more efficient, climate-friendly residential cooling solution. The initiative is also supported by Conservation X Labs, Alliance for an Energy Efficient Economy (AEEE), and CEPT University, and a coalition of over 20 leading international non-profit organizations who have congratulated the Finalist teams through a special video, linked here.
Sir Richard Branson, Founder and CEO of the Virgin Group and global Ambassador for the Prize, was quoted in the Global Cooling Prize press release as saying, "It gives me immense satisfaction to say that we have received some absolutely revolutionary cooling ideas. What makes this competition especially exciting, is the market transformation opportunity. It could be one of the biggest technology-based steps we can take to arrest climate change. Congratulations to the finalists of the Global Cooling Prize. I look forward to following all of you on your journey to winning the Prize and scaling your solutions globally."
Since the Prize was launched, over 2,100 participant registrations from around the globe have been submitted by innovators, start-ups, research institutes, universities, and key industry manufacturers in over 95 countries. Of the registered entities, 445 teams submitted preliminary ideas and 139 teams from 31 countries followed through with a full Detailed Technical Application to the Prize.
The winner of the Global Cooling Prize will be announced in November of 2020 and awarded more than $1 million in prize money.