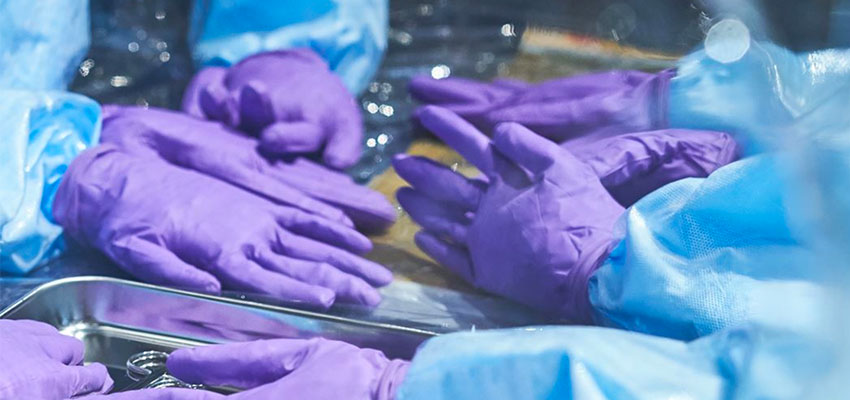 Surgical gloves incorporated into the SurgiBox
Design Museum London
Original interview as posted on Design Museum London website
To mark this year's Beazley Designs of the Year, the Design Museum speaks to Debbie Lin Teodorescu, one of the designers behind team SurgiBox - a portable operating theatre that can fit into a backpack. Mike Teodorescu and Stephen Okajima also make up the multidisciplinary team from Massachusetts General Hospital, MIT D-Lab and EPFL EssentialTech who have masterminded the design. Find out more about this year's People's Choice.
'Q: Congratulations on winning the People's Choice category for Beazley Designs of the Year. What does it mean to you to receive such a reaction from the public?
Having started SurgiBox before there was a widespread understanding of how global surgery - never mind safe global surgery - is important for our collective welfare, I am so profoundly gratified that the public now sends a clear message: we are the generation that will bring safe surgery to every corner of the world.
Q: Can you tell us about the first conversation you had as a team which inspired SurgiBox?
I was talking with one of my medical doctorate mentors about his work abroad in Haiti and Mali and elsewhere. He told me that it was unfortunate that field surgical team members have to take turns chasing dust and flies out of the surgical field. We ended up talking about the crazy idea of using the glove boxes I knew well from lab experiments for this challenge, and SurgiBox was born out of this discussion.
Q: How are you making surgery a safer place?
Safety from SurgiBox's standpoint is two-fold. One, the system enclosure is designed to be cleaner than that of even state-of-the-art operating rooms. It really effectively protects the patient from being infected by germs from the environment and from their own skin. Two, the plastic bubble blocks blood and fluid splashes, which currently infect many providers each year. The goal is for both patients and teams to be much safer.
Q: How did your cross-training in biomedical engineering help you design SurgiBox?
I was actually inspired to cross-train formally in biomedical engineering by my work on SurgiBox design. Doctors often see problems that we feel need fixing, but until we can translate these ideas concretely and precisely into actionable designs and tests, they won't go anywhere. And because design can be so intricate, sometimes there is a limit to what parameters can be calculated, and we have to go with direct clinical experience and intuition. I feel lucky to draw from both the bolts and the bandages, so to speak, to help patients.
Q: Were there any challenges or obstacles that you faced whilst designing SurgiBox?
SurgiBox has been co-designed by seasoned field teams from the very start. Bridging the gap between the medical folks and the engineering folks in terms of basic assumptions and design expectations was a major early challenge. So too was the - self-imposed - challenge of how to design something that's versatile enough and cost-effective enough to work anywhere, but high-enough quality that we ourselves would want to use it. We see the latter as an ethical demand, and one that has inspired particularly clever, resourceful solutions in the design.
Q: What's next for the project? Has it fulfilled your initial hopes?
In partnership with Humanitarian Grand Challenges (co-sponsored among DFID, USAID, and the Kingdom of the Netherlands) we are developing Generation 6 SurgiBox which will be a universal-use system in the field, and look forward to getting to full field pilot. We have been delighted that Project SurgiBox has more than lived up to our hopes - of creating a system that is intuitive for providers to use, encourages everyone to raise the bar for what level of safety is achievable in austere settings, and leapfrogs hefty infrastructural and logistical hurdles in the way of safe surgery.
Q: What's the one thing you'd like people to remember about SurgiBox when they leave Beazley Designs of the Year?
Safe surgery is sexy. It's an abstract two-word phrase, but the difference between safe surgery and unsafe surgery capabilities translates into bombing victims making it home vs not, mums living to raise their newborns or their baby growing up motherless, war heroes starting therapy the day after a broken leg is fixed vs losing that leg. It's an immense problem, and SurgiBox is only solving one piece of the puzzle - but I hope that we can all work together to solve it, stat.
Q: If you had one piece of advice for a young aspiring designer, what would it be?
I might presume to flip this question around - even if you do not think you're a designer right now, if you see something that bothers you and you seriously want to fix it, welcome to the designer club!
Original interview as posted on Design Museum London website
---
Contact
Debbie Lin Teodorescu, Founder SurgiBox