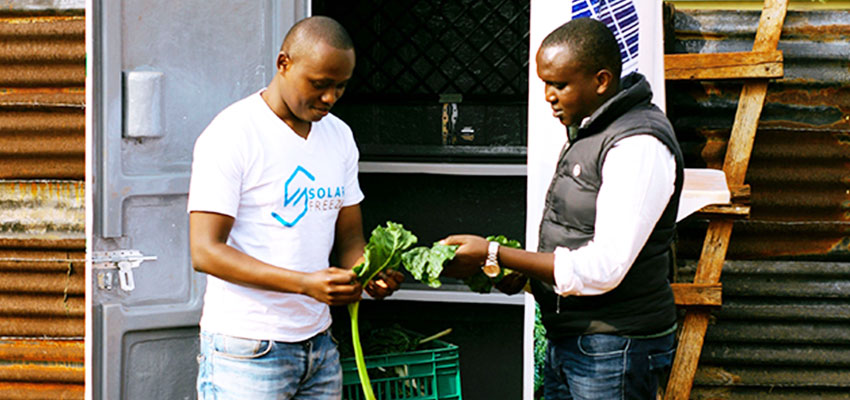 Dysmus Kisilu (left) of Solar Freeze and Peter Mumo of Expressions Global, both 2019 MIT D-Lab Scale-Ups Fellows
MIT D-Lab
What does it take to overcome critical barriers to scale for entrepreneurs?
In a week-long program that promises to be exciting, a group of entrepreneurs and entrepreneur supporters from East Africa and around the world will convene in Mukono, Uganda from October 27th to November 2nd to collectively discuss this very question.
At MIT D-Lab's Tackling Challenges to Scale: Enterprises & Ecosystems Summit, design teams will explore a range of unique and urgent scaling challenges and use the participatory design approach to co-design creative approaches to overcoming these business challenges, in order to drive local East African ventures' growth and scale.
MIT D-Lab's Participatory Design Approach
Participatory Design, as defined by MIT D-Lab, is the multi-disciplinary process of co-designing effective poverty-alleviating solutions and approaches with end-users. Participatory design is increasingly seen and used as an important approach to designing products, processes, programs, and business models that aim to sustainably improve the lives of people living in poverty.
Our Approach to Entrepreneurship & Innovation
MIT D-Lab believes that driving equity, resourcefulness, and resilience for people living in poverty requires building relationships, enabling shared learning, and promoting collaboration between a wide range of actors — from entrepreneurs to entrepreneur supporters — at all levels of the ecosystem.
At a local level, D-Lab works closely with social entrepreneurs to grow their businesses, as we believe that supporting these ventures will broaden the pool of homegrown, high-impact ventures in underserved markets, and ultimately bring critical poverty-alleviating products and services to market at scale.
At a broader level, we believe that ecosystem cultivation can play a crucial role in driving local and regional economic development in emerging economies. Over the past several years, we have actively conducted research and facilitated joint ecosystem strengthening activities among ecosystem actors (e.g. intermediaries, government officials, etc.) to build stronger and more resilient markets.  
Summit overview – what will the event look like?
Participants will be organized into seven teams, with each team taking on the most urgent scaling challenge of an entrepreneur, from Uganda, Kenya, or Tanzania, who is poised to expand their reach nationally and regionally. Over six days, the teams will engage in a design sprint to dig deep into the challenge at hand, generate creative ideas for how to overcome it, and prototype and test one idea with relevant stakeholders.
"I initially thought to try my ideas for a business on my own but now I see that it is easier and there is greater potential to advance further as part of a team," Mohamed Fadel, an entrepreneur from Laâyoune who attended the 2018 Practical Impact Alliance Co-Design Summit.
Examples of challenges - what will participants solve?
Challenges will broadly focus on how to:
Monetize/find a market for water consumption data to fund a new investment.
Double the utilization/demand for cold storage rental services.
Develop a strategy to scale the recruitment and on boarding of new healthcare providers as part of a payments acceptance network.
Evaluate financing models so as to grow sales and customer access to the venture's product.
Craft a compelling marketing/ client acquisition strategy for products with fluctuations in demand.
Increase efficiency of a supply chain sourcing strategy to accommodate growing demand.
Design a service offering that would be attractive to new category of customers, large-scale vendors.
Attendees / Facilitators
The event will convene a diverse range of individuals, from entrepreneurs to people who actively support entrepreneurs to scale.  
Attendees include:
Entrepreneurs (and their teammates) from this year's Scale-Ups Fellowship cohort, MIT D-Lab's one-year program that supports local entrepreneurs bring poverty-alleviating products and services to emerging markets at scale.
Members of the MIT D-Lab's Practical Impact Alliance, a network of corporates, NGOs, governments, and social ventures who apply principles of participatory design and inclusive business to amplify individual and collective impact.
Innovation Ecosystem Builder Fellows who are running entrepreneur support programs and building networks and ecosystem-level initiatives to strengthen local innovation and entrepreneurship in their home communities.
Representatives from Kenyan and Ugandan entrepreneur support organizations and subject matter experts relevant to the specific venture challenges.
Event facilitators will include experienced entrepreneurs and entrepreneurship educators from Africa and other countries from around the world. See an updated list of organizations here.
Hear from past participants!
"The co-design summit was a tremendous opportunity to roll up our sleeves and work in partnership with local innovators and designers, community members and like-minded NGOs and international companies to design solutions together. As the chief of innovation design, I am a believer in the power of designing solutions "with" communities rather than "for" communities." - Seema Patel, Former Division Chief, Innovation Design & Advisory, USAID
"The personal validation I gained through the summit is the significance of co-design – not just with end-users but all stakeholders. Had our team been comprised only of teachers, and had we not gone through the extensive process of data collection and crowdsourcing ideas from other working groups, we never would have landed on our solution." - Taylor Cruz, Innovation Officer, Pact
---
Contact
Amanda Epting, MIT D-Lab Practical Impact Alliance Manager
Molly W. Rubenstein, MIT D-Lab Innovation Ecosystem Manager