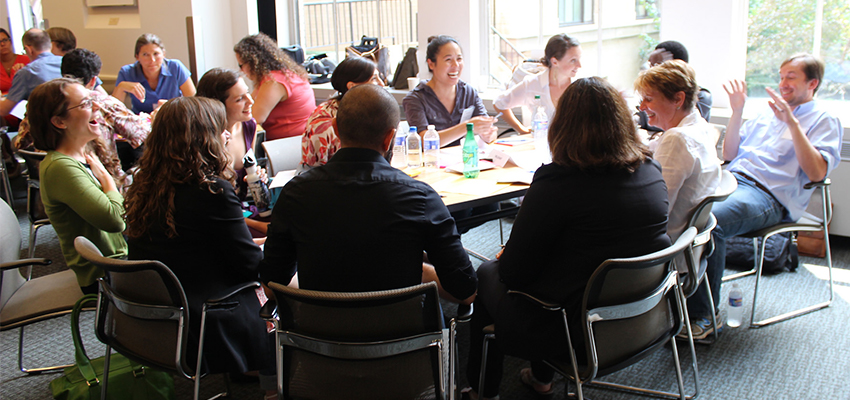 Lean Research Convening. MIT, August, 2014.
The Lean Research community of practice has drawn together over 100 practitioners across a variety of fields.
Organized initially by MIT D-Lab, The Fletcher School of Law and Diplomacy, and Feinstein International Center at Tufts University, the Lean Research community of practice has drawn together over 100 practitioners across a variety of fields.
We are committed to implementing lean research in our work and engaging in joint learning to continue to develop and champion the approach.
Our core activities include:
Organizing and participating in events and workshops
Contributing to the development of tools and publications
We rely on our community of practice to develop, apply, and monitor the Lean Research approach, and we would be delighted to learn from your experience.
Join our Community
Individual members
Individual members are committed to integrating Lean Research into their work and contributing to developing and disseminating the approach within their spheres of influence. They participate in the community of practice as individuals and/or as individual representatives of their organizations.
To join the community of practice as an individual member sign up for our mailing list. We also invite you to review and sign the Lean Research Declaration.
Institutional members
Institutional members are integrating lean research into their M&E, learning, research, policymaking, and other aspects of their operations at the unit, department, or institutional level. They are committed to documenting their experiences with lean research and sharing these with the broader community of practice. They are also contributing actively to the development and dissemination of the lean research approach.
To become an institutional member, contact Kendra Leith or Elizabeth Hoffecker.
Lean Research Steering Committee Members
Kendra Leith
Kendra is MIT D-Lab Associate Director for Research. She oversees and coordinates the D-Lab research team and implements research on participatory design and conducts user and market research studies. She also co-leads the Lean Research program. Read more.
Kendra first joined D-Lab in 2006. During this time, she organized the first International Development Design Summit and led student trips to India. Kendra went on to MIT's Department of Urban Studies and Planning and received a master's degree in City Planning.In 2011, after a period working at the Institute for International Urban Development, she returned to D-Lab to help shape and oversee user and market research for individual D-Lab Scale-Ups projects and establish an evaluation strategy for several programs including the Scale-Ups Program and the Comprehensive Initiative on Technology Evaluation. Read more.
Kendra first became involved in the Lean Research Initiative in 2014. She was excited about the possibility of making the research process more enjoyable and less burdensome for the participants and making the results more relevant and useful for the subjects and other decision-makers.
Elizabeth Hoffecker
Elizabeth is a co-founder of the Lean Research initiative and designed and teaches MIT D-Lab's first graduate class, D-Lab Field Research: Understanding Development Impact as well as the online class Lean Research Skills for Conducting Interviews that will run starting in early January, 2019. Read more.
She also leads the MIT D-Lab Local Innovation Group, which investigates the role that local innovation plays in sustainable development. From 2013 to 2017, she led the research program for the International Development Innovation Network, a consortium of university and community-based partners headquartered at D-Lab.
Kim Wilson
Kim is a co-founder of Lean Research. The idea of collecting accurate information crucial to good decisions in a way that left human subjects feeling great about their contributions seemed too good to resist, and thus in concert with dedicated colleagues at MIT and Tufts, she ushered Lean Research into the world. While not obsessing about Lean Research, Kim lectures at The Fletcher School of Law and Diplomacy, where she teaches several courses on markets and development. Read more.
At Tufts, Kim is Senior Fellow for The Council on Emerging Market Enterprises (CEME) | Tufts Fletcher School and a Visiting Fellow for the Feinstein International Center. She won the James L. Paddock For Excellence in Teaching in 2009. She is also Academic Director of the The Fletcher School Leadership Program for Financial Inclusion, a nine-month fellowship funded by the Bill & Melinda Gates Foundation. In October of 2015, she joined the board of The Hitachi Center for International Affairs at Fletcher.
Roxanne Krystalli
Roxanne Krystalli is the Humanitarian Evidence Program Manager at Feinstein International Center. She has worked as a researcher and practitioner at the intersection of gender and armed conflict, with a particular focus on understanding the needs of victims of violence and the experiences of former combatants. Read more.
She has collaborated with various UN agencies and international organizations, including the UN Bureau of Crisis Response and Prevention, UNDP, UN Women, UNICEF, IOM, and the Norwegian Refugee Council. Roxanne has worked with community-based groups in Egypt, Pakistan, Uganda, Sudan, Colombia, Guatemala, Mexico, and other areas. It was this work with vulnerable populations affected by violence that prompted Roxanne to join her Lean Research colleagues in developing a more rigorous, relevant, respectful, and right-sized approach to human-centered research.
For her work, Roxanne has been recognized as a P.E.O. International Peace Scholar, Ogunte Featured Social Innovator, TEDx speaker, and as a recipient of the Presidential Award for Citizenship and Service at Tufts University. Roxanne holds a BA from Harvard College, an MA from The Fletcher School of Law and Diplomacy, and is pursuing a PhD at The Fletcher School on the politics of victimhood during transitions from violence. You can follow her on Twitter, as well as on her personal blog.