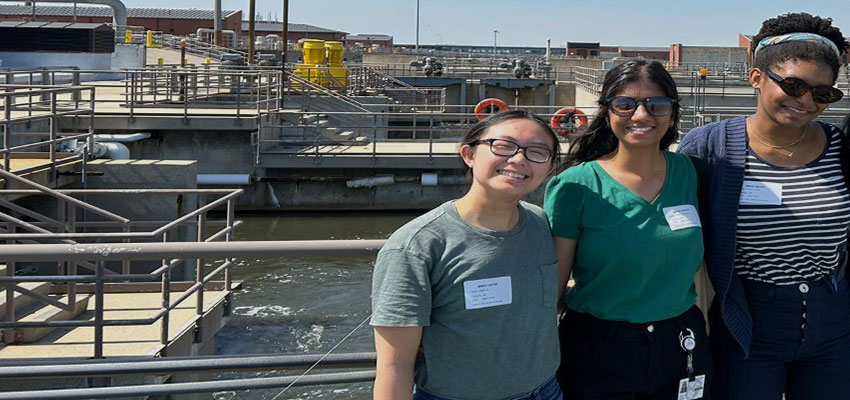 From Left: Megan Lim, Khushi Desai, Rachel Carethers at Deer Island Wastewater Treatment Plant. Photo: Courtesy MIT D-Lab
The system validates a decentralized solar thermal-powered pyrolysis process for fecal sludge, with added agricultural waste for feedstock, and reuse of the produced biochar (fertilizer) and biogas (onsite water treatment).
MIT D-Lab class
D-Lab: Water, Sanitation, and Hygiene (WASH)
Community partner
Expert insights
Professor V Srinivas Chary (Administrative Staff College of India), Professor Ramon Sanchez (Harvard TH Chan School of Public Health), Process Control Staff at Deer Island Wastewater Treatment Plant, Brittany Webb (Vanguard Renewables), Geoffrey Wheeler (Center for Vocational Building Technology), Dan Sweeney (MIT D-Lab's Biomass Fuel & Cookstoves research scientist), Rebecca Nelson (Department of Global Development professor at Cornell University), Whitman Barrett (School of Integrative Plant Science PhD student at Cornell University)
Location
India

Student team
MIT students unless otherwise noted.
Khushi Desai, SM Environmental Health (Harvard TH Chan School of Public Health, 2024): Khushi Desai is a Master of Science student in Environmental Health Risk Sciences at the Harvard TH Chan School of Public Health, with experience working on urban sanitation in India. She is passionate about driving innovation and inclusive implementation of water and sanitation solutions.
Rachel Carethers, BA Environmental Studies & Spanish (Wellesley College, 2024): Rachel Carethers is a Bachelor of Arts student in Environmental Studies and Spanish at Wellesley College. She is primarily motivated to address the lack of acknowledgement of marginalized perspectives, with cultural competency, in relation to environmental issues and aims to change how we think about climate adaptations – especially rooted in cultural histories – how we define what knowledge matters, and how we include community.
Megan Lim, BS Business Management (MIT Sloan, 2024): Megan Lim is a Bachelor of Science student in Business Management at MIT Sloan. She is curious about the intersection between innovation, leadership, and social impact.
Context
Urban India produces about 120,000 tonnes of fecal sludge every day. Around 70% of urban Indian households use on-site sanitation systems such as pit latrines and septic tanks.  Approximately ~60% of this waste is dumped into water bodies and land without treatment. Contamination of water and soil by fecal matter are major drivers for waterborne disease, including diarrhea, typhoid and finally, high infant mortality under the age of 5. Additionally, there is serious environmental distress in the form of extreme contamination of major riverbelts like Ganga, Yamuna, etc and damage to soil quality.
Opportunity
We recognize that fecal sludge can be a valuable natural resource for recovery of renewable and clean energy as well as byproducts that can be used as high quality fertilizers, since fecal sludge contains organic matter and contents such as phosphorus, nitrogen, carbon, etc. Many centralized wastewater treatment plants use recovered fecal solids via primary and secondary treatment to produce methane and materials for land application — case in point being the renowned Deer Island Wastewater Treatment Plant in Boston, MA.  
However, sewer networks and centralized plants rarely reach the last household, especially in densely populated cities such as Mumbai and Bangalore in India. This is an  issue of increasing concern with rapid urbanization and rural-urban migration in India and emerging small towns and cities with no preexisting sanitation infrastructure.
Our system solves for multiple issues
Space constraints, centralized treatment and recovery plants cannot be built in crowded cities. Moreover, desludging of septic tanks/pit latrines in such urban hubs is difficult due to narrow streets where the trucks cannot go, and compliance of truck drivers is often difficult to ensure safe dumping into the fecal sludge collection systems

Cost constraints, given the system is circular and with high-quality  outputs, the costs will be offset by the profits

Accessibility, where informal settlements and other low-income premises that have historically not been covered by sewage systems would have the opportunity to develop a community-based system for waste management as well as economic earnings from fertilizer/treated drinking water.  
Proposed system technology
The major issue that we are dealing with is to actively reuse fecal sludge. We begin with solar-powered thermal heat-based pyrolysis of fecal sludge, and a combination of feedstock of agricultural waste products such as rice straw. The addition of agricultural waste aids moisture control and sludge thickening. Next, the biochar that is produced is dewatered and the sludge is dried, which can then be sold for land application as fertilizer. Secondly, the biogas produced tends to have a high heating potential and can be converted to energy, which will power a localized water treatment process.  This will help communities drawing water from unsecured hand pumps and other sources (eg. local streams and rivers). In coastal areas, the energy can be drawn into a desalination process to improve clean water access.
Such a process will ensure circularity, and at the same time provide avenues for economic benefits for local communities because they can sell any excess energy.
Next steps
The team plans to work towards 3 major goals:
Building a prototype with the right fecal sludge and agricultural feedstock ratio balance that is built into the Insanirator device
Developing a network of partners (engineers, software engineers, scientists) to seek support on improvising on the system. (See section on "Community Partner Organizations" above)
Developing a commercialization plan in line with insights from on-ground parties who might benefit from the system (ideally, informal settlements, pavement dweller communities, affordable public housing etc)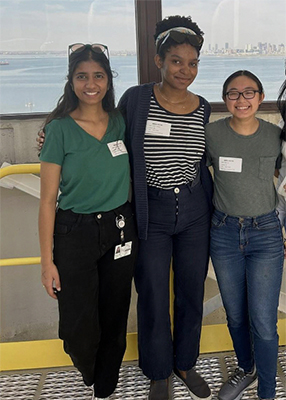 ---
Contact
Libby Hsu, MIT D-Lab Associate Director for Academics; Instructor, D-Lab: WASH
Khushi Desai, Student team member
Rachel Carethers, Student team member
Megan Lim, Student team member