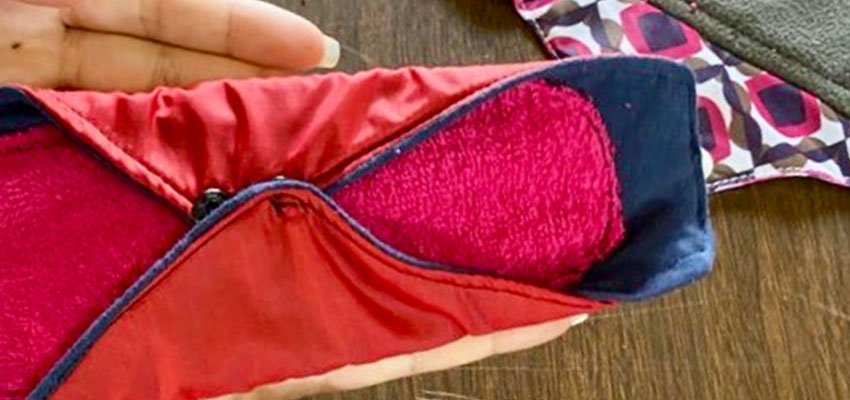 Handmade menstrual pad from a 2020 workshop at Society Empowerment Project in Kenya.
In partnership with Society Empowerment Project, this project will co-design a Creative Capacity Building workshop that aims to train women in the local community to become researchers on sexual and reproductive health to address high rates of teenage pregnancy and HIV/AIDS in Kenya.
Student team
Michelle Lee, Wellesley College, Class of 2023
Amy C Ndiaye, Wellesley College, Class of 2024
Diya Verghese, MIT Sloan, Class of 2023
Community partner
Society Empowerment Project (SEP)

Festus Juma - Founder and Executive Director
Lourraine Chess - Programs Manager, Health and Education
Location
Oyugis, Homobay County, Kenya
Background
Kenya ranks 108 out of 153 countries for gender inequality (Global Gender Gap report, 2021). Our study is nested in Homa Bay County where those between ages 15 and 24 contribute to 13% of the total number of HIV and AIDS infections (UNICEF, 2020). In 2019, the rate of HIV/AIDS infection was twice as high for women as for men given that rates are 3.1% for men and 6.6% for women. In addition, one in five teenage girls aged 15 to 19 either have a child or are pregnant. This statistic increases rapidly with age and is 40% for girls aged 19.
The Kenyan government has created policies geared towards sexual health education within schools, and there are also resources available for anyone who wish to have access to contraceptives (Guttmacher Institute, 2017). It is not publicized or well known to citizens where they can access resources, and there is stigma around those who do attempt to try obtaining contraceptives (Guttmacher Institute, 2017). There is the fear of being questioned for why they want access to birth control and embarrassment that could arise as a result of asking as well (Guttmacher Institute, 2017).
Objective
Our goal is to work with SEP to understand the reasons for an increasing trend in teenage pregnancies and HIV/AIDs. We plan to use a D-Lab Creative Capacity Building (CCB) approach to train women in the community to undergo their own needs assessment that digs into the '7 Whys' (open-ended questions to delve into the underlying causes) and to build a relationship with the interviewees to promote trust.
Once we understand the underlying reasons for this uptick, we plan to develop a Creative Capacity Building Business Model (CCB-B) to engage youth (women and men) in a discussion around sexual and reproductive health. Ultimately, our objective is to lower the rates of teenage pregnancies and HIV/AIDs in Homa Bay.
CCB Workshop on research training
Our CCB workshop will consist of 5 days with a goal to train women in the local community to implement their own needs assessment to find out more information on menstrual health and hygiene, reproductive health, sexual activity and gender-based violence to ultimately better understand the broader question of what is causing high rates of unintended pregnancies and HIV/AIDS.
Next steps
The next steps in our project are to finalize the CCB workshop plan, along with logistics on how we will implement it. Then, once those who are trained synthesize the responses using the instruments they generated during the workshop we will be ready to start planning the CCB-B.
---
MIT D-Lab Class
Contact
Sally Haslanger, Co-Instructor D-Lab: Gender and Development