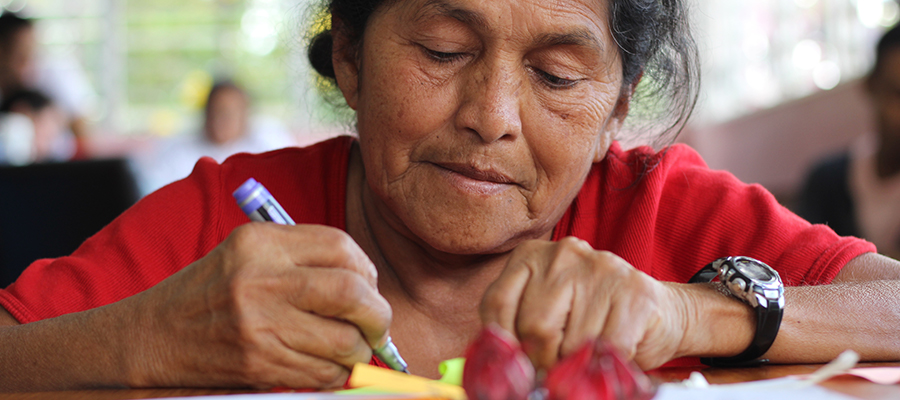 Rosy Rosybel, president of Las Diosas, Estelí, Nicaragua.
Accelerating women's economic prosperity
Identity has several dimensions, including gender, race, sexuality, and class, and these intersecting links influence a person's daily life. Therefore, a gender analysis that utilizes an intersectional lens is essential to designing and implementing equitable international development projects.
This course explores gender and identity, illuminating the power dynamics and root causes of inequality within cultural, political, and economic contexts. Designed to give students a framework with which to understand gender dynamics and the skills to conduct a gender equality assessment, the course teaches students how to integrate gender-sensitive strategies into their work.
Lectures & Guest Speakers
Lectures by course instructors and guest speakers, including researchers, filmmakers, and development professionals, prompt critical discussion about the social, economic, and political conditions that shape women's roles in development. Focus is placed on the design and implementation of projects that provide opportunities for earning a living wage in sectors including water, energy, and agriculture.
Labs
In the first half of the class, labs include the application of D-Lab's Lean Research methods to analyze gender dynamics in local and international development programs.
Projects
This year student teams will partner with organizations in Brazil, Columbia, Kenya, and Peru. Find examples of last year's projects here. The projects in Kenya and Columbia will continue. One focus of our work will be sexual and reproductive health and menstrual health and hygiene. This year we will also partner with a class at INSPER in São Paulo, Brazil; the class will meet regularly with us and will coordinate work in the favelas in São Paulo.
Travel
Given COVID-19 conditions, it is unlikely that teams will be able to travel during the Independent Activities Period (IAP) in January 2022 to continue collaborations with the community partners. However, last year we were able to continue our work virtually in January. Depending on conditions in Summer 2022, there may be opportunities to travel then.
Course Information
Semester Offered
Fall (Offered since 2016)
Lecture Times
W9:30-12:30
Units (credit hours)
3-0-9
Course #
EC.718 / EC.798 (G) / WGS.277