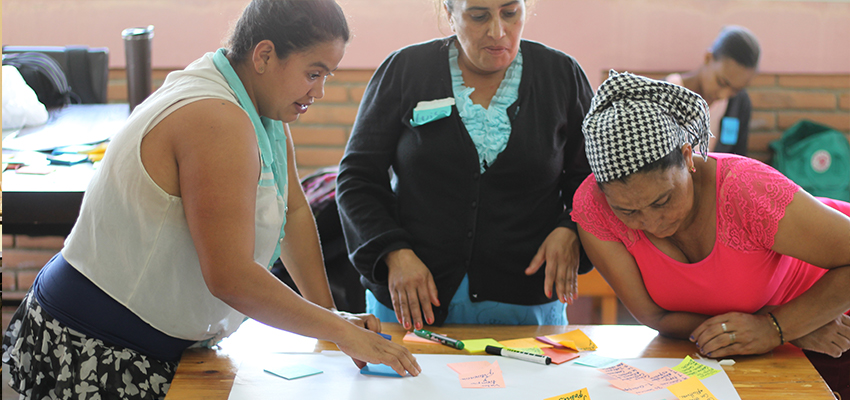 D-Lab student-run Creative Capacity Building workshop in Estelí, Nicaragua, 2018.
Inclusive Economies explores how innovations and market mechanisms can benefit humanity by rallying impact investments, engaging participants cooperatively, boosting equity and resilience, and broadening prosperity. This thesis can be counter-intuitive since many equate such mechanisms of the market and capital investment solely with the canonical neo-liberal globalization model or corporate-driven globalization approach to development.  While seemingly quite productive, such traditional approaches have also increased wealth disparity within and between peoples, threatened the sustainability of the natural environment, and generally undervalued the external, the intangible, and the difficult to measure.
This course therefore explores the ideas behind, and actions towards, multiple compelling and inclusive economic mechanisms and approaches. Students review and analyze the competing worldviews and historical pathways that led to the current dominant economic modalities and both theoretical and empirical criticisms. We then explore concepts and case studies for developing alternative opportunities, modifications, and/or improvements, including crafting circular economies and reinforcing local economies. Our core goal is to understand and experiment with economic systems thinking towards reclaiming the power to control and build inclusive local and regional economies, secure rights to food, water, land, and healthy environments, build resilience, restore value systems, and ultimately improve quality of life.
We will explore market mechanisms for maximizing participation, choice, and growth; impact investing approaches which are socially responsible and include metrics that matter; cooperative and mutual ownership structures for shared gains; equitable citizen participation in basic and natural resource wealth; and the role of new technologies and methods towards boosting affordability, accessibility, and overall inclusive prosperity.
Student projects and travel
Students will have the opportunity to apply their coursework on either, a field-based project or a deeper exploration on a practical topic of their interest with community partners. Travel may be possible for field-based projects.
Course Information
Semester Offered
Spring (Since 2017)
Lecture Times
W9:30-11:30
Units (credit hours)
2-0-7