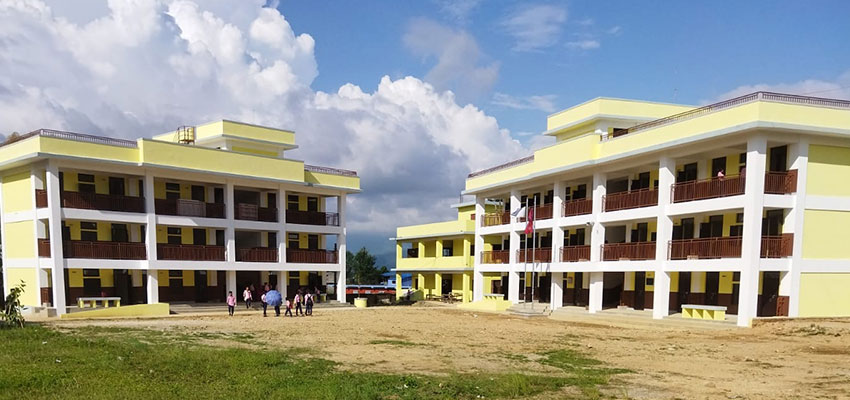 An image of Shree Mahendra Secondary School in Padampokhari, Hetauda. Photo: Shree Mahendra Secondary School
Coming soon!
MIT D-Lab class
D-Lab: Water, Sanitation, and Hygiene (WASH)
Dignifying menstruation in Nepal through the design and construction of an inclusive, menstruation-friendly bathroom pilot at the Shree Mahendra Secondary School.
Community partner
Shree Mahendra Secondary School in Padampokhari, Hetauda
Location
Nepal
Student team
MIT students unless otherwise noted.
Susan Su, Class '23, Department of Mechanical Engineering
Sophia Chen, Class '24, Department of Mechanical Engineering & Architecture (Art/Design)
Vivian Chinoda, '25, Department of Electrical Engineering & Computer Science
Stuti Ginodia, '23, Harvard Kennedy School
Shrinkhala Khatiwada, '23, Harvard Graduate School of Design
Project description
Menstrual taboos and the lack of menstruation resources and education continue to perpetuate gender inequality in Nepal. Most women in Nepal have inadequate access to menstrual hygiene tools and education such as sanitary pads, washing facilities, and waste disposal. Beyond access to menstrual hygiene products, the lack of safe, menstruation-friendly bathrooms further oppresses menstruating individuals. For instance, bathrooms may not support menstruation-related activities such as (a) providing pads, especially of sufficient quantity and/or quality; (b) changing pads, such that there is not enough room to stand; and (c) disposing of pads, such that there is not a place for disposal. Moreover, bathrooms may be unhygienic or not well-maintained; lack running water; be difficult to access, i.e. due to distance; and be unsafe, e.g. due to a lack of privacy or lighting. Poor access to adequate menstruation-friendly bathrooms coupled with social taboos and the lack of menstruation resources result in high attrition from and absenteeism rates in schools, further perpetuating gender inequality, as school attendance translates into preclusion from positive educational outcomes and ultimately social, economic, and/or political productive capabilities.
School bathroom pilot
Our approach to the dignification of menstruation in Nepal focuses on implementing and improving bathroom facilities, starting with a school pilot at the Shree Mahendra Secondary School, in Padampokhari. In our design, we outlined the following three broad categories in bathroom considerations: (1) location, both topographically and locally (e.g. even within a school floor plan); (2) bathroom facilities, maintenance, and hygiene, such as the provision of pads, disposal options, access to clean water, and space allocation; and (3) user safety, privacy, and inclusivity. The following features for the Shree Mahendra Secondary School were taken into consideration:
Water supply and accessibility, which inform the type of toilet to be designed
School's layout and number of pupils, which inform the size, number of stalls, and placement of bathrooms
Availability of resources for waste disposal, which inform the design of waste-disposal methods, such as on-site incinerators for menstrual products
Availability of resources for maintenance, to establish guidelines for cleaning, restocking, fixing, and other long-term maintenance needs
Research and design
We first performed extensive literature review and background research, and conducted user research—including an online user survey with close to 3000 responses, and an in-person conducted survey. Then, we developed school-focused bathroom guidelines such as location, lighting, and square footage specifications. We worked closely with the school to design a menstruation-friendly bathroom blueprint, supplemented by initial designs of menstruation-adjacent bathroom facilities (such as a disposal unit for hygiene products). We will be traveling to Nepal at the end of the summer in late August to begin construction.
---
Contact
Libby Hsu, MIT D-Lab Associate Director for Academics; Instructor, D-Lab: WASH