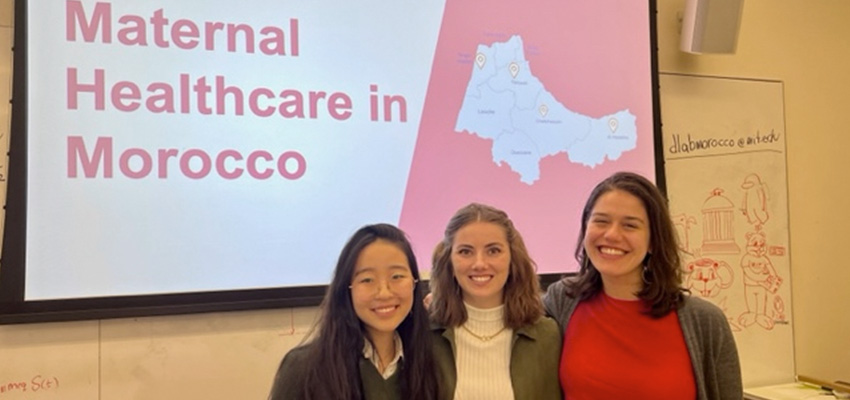 D-Lab: Gender and Development Maternal Healthcare Access in Monacco team. Photo: Courtesy MIT D-Lab
Reducing maternal mortality rates and improve maternal health services in the TTA Region in Morocco.
Student team
Junhee Kim: Wellesley College, International Relations and Political Science, Environmental Studies
Samatha Lewis: Harvard University, Master in Urban Planning, graduating 2023
Emilie Litsas: Harvard Kennedy School and  Dartmouth Tuck School of Business, Master's in Public Policy + Master's in Business Administration, graduating 2023
Roshni Madhu-Sudan: Wellesley College, International Relations and History, graduating 2023
Community partner
Yonsei University (Korea), Harvard T. H. Chan School of Public Health, and Samsung. The Principal Investigator of the research is our project advisor, Professor Sangchul Yoon.
Location
Northern Region of Tangier Tetouan Al-Hoceima (TTA), Morocco
 
Problem
Our project team is tasked with conducting a co-design workshop to identify potential interventions to improve patient-centered services in primary health centers in Morocco, specifically in the northeastern region of Tangier-Tetouan-al Hoceima (TTA). The project operates with this driving question: How can we reduce maternal mortality rate and improve maternal health service in the TTA Region?
Solution including technical details
Our co-design work will be conducted at the site of a primary maternal care clinic in Tangier, with 25 participants and 5 co-facilitators representing each of the major regions, who will distribute their knowledge back to their clinical teams after the workshop.
Next steps
The objective of this work is to co-design interventions that enhance maternal and newborn health capabilities of the primary health worker, as well as improve medical services of primary health centers by introducing an environment of patient-centered care.
---
MIT D-Lab Class
Contact
Libby McDonald - MIT D-Lab Lecturer, Inclusive Economies Lead