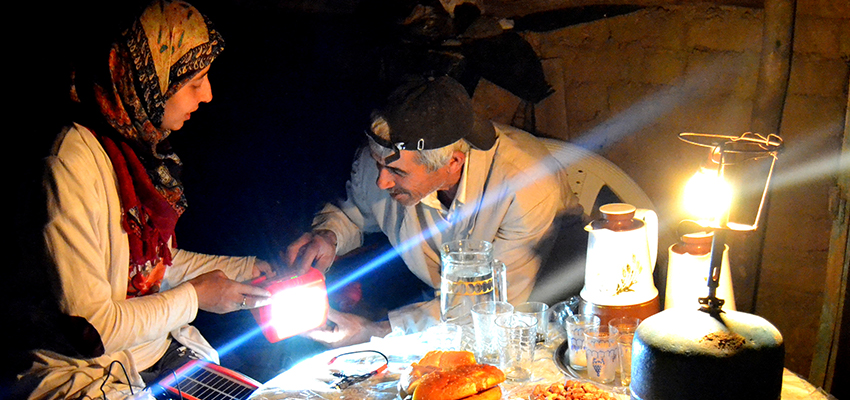 Working with micro-finance institutions (MFIs) in Morocco to identify technologies and products that could provide benefit to the livelihoods of the MFIs clients.
Needs and Market Opportunity Assessment
D-Lab began by conducting a general needs assessment with clients from two microfinance institutions (MFIs) in Morocco, a user feedback survey on a solar water heater piloted by one of these MFIs, and interviews with key officials at four MFIs in order to understand their strategic plans and evaluate their interest in facilitating access to technology products. This study identified two key areas of need for the rural population in Morocco. The first need was in the area of agriculture for technologies to reduce post-harvest loss. The second need identified was for improved lighting. 
Read Nadia Elkordy's blog from about the needs assessment fieldwork. 
Technology and Business Model Identification
Solar energy products identified
Based on the results from the needs assessment, focus groups were conducted to get feedback on a range of solar lantern products.  From these focus groups, two products, the d.light S300 and the Greenlight Planet SunKing Pro2, were selected for inclusion in a field evaluation for low-income rural households (both off-grid and on-grid) in Taounate, Morocco and ambulant merchants (mobile street vendors) in Kenitra, Morocco. Study participants were provided with solar lanterns and gathered feedback on their experience using the products over a period of two months.
This study showed that the solar lanterns are a suitable replacement for the indoor lighting needs of off-grid households and the outdoor lighting needs of both off-grid and on-grid households in rural Morocco.  The study concluded that a majority of study participants prefer the light from the solar lanterns to that of their current lighting sources (gas lamps, candles, and battery-powered flashlights). Based on surveys of the participants' current energy expenditures, solar lanterns provide a more affordable source of lighting over the product's lifetime, and the study participants would be willing to pay the retail price for the solar lanterns.
In contrast, the lighting requirements of street vendors in Kenitra are greater than what can be provided by solar lanterns or small solar home systems; thus this market segment was not further pursued.
Distribution strategies 
As a part of the field evaluation study, D-Lab asked potential customers about where they currently purchase most household products and where they would expect to find the solar lanterns available for purchase. It was determined that the most suitable channels for selling solar lanterns are small retail shops in small towns and weekly markets (souks). Regulations in Morocco restrict MFIs from directly selling physical products from third-parties to their clients; therefore, the microfinance institutions can only market the solar lanterns to their clients, but cannot give loans specifically for the products. 
Read Nadia Elkordy's blog post on this phase of the project.
Read a D-Brief summary report from this phase of the project.  
Pilot and Market Deployment
In order to test the viability of the distribution channels identified for solar lanterns, D-Lab established a partnership with Total, which has a program selling solar lanterns in over 30 other countries in Sub-Saharan Africa and Asia through their service stations and partner organizations.
For this project, Total Maroc imported 400 solar lanterns and maintained a stock point in Fes, Morocco. D-Lab recruited nine retailers and six entrepreneurs to sell solar lanterns in the Taounate and Boulemane provinces in Morocco. The retailers and entrepreneurs purchased the lanterns for 315 Moroccan dirhams and sold them to end-users for 350 dirhams, which is in the lower end of the typical price for this product, which is 35 to 40 USD. With support from Total, D-Lab developed marketing materials (promotional video, posters, and pamphlets) and training materials specifically for this pilot program in Morocco. 
After nine months, fewer than 200 of the solar lanterns were sold, through the retailers and entrepreneurs, indicating that at the recommended market price - and without financing - there is no significant demand for the solar lanterns. Given the dispersed nature of the market, which leads to high costs for developing a sales network and marketing the product, these sales volumes are not large enough to support a financially viable business model.
A Summary Report is available with additional details on all phases of this project.
---
Partners
The microfinance institution Al Amana, the solar lantern manufacturer Greenlight Planet, distributor and retailer TOTAL Maroc, and several local retailers. 
Team
MIT D-Lab staff members Eric Verploegen, Kendra Leith, Saida Benhayoune, Nadia Elkordy, and Megha Hegde. Moroccan field staff Imane Khiyati, Zineb Slaoui, Youssef El Khanchoufi, Youssef Yassir, Oumayma Jabari, Yousra Al Karim, Salima Massoui, and market researcher Ghita Benessahraoui.
Contact
Eric Verploegen, Research Engineer, Food-Water-Energy Lead
---