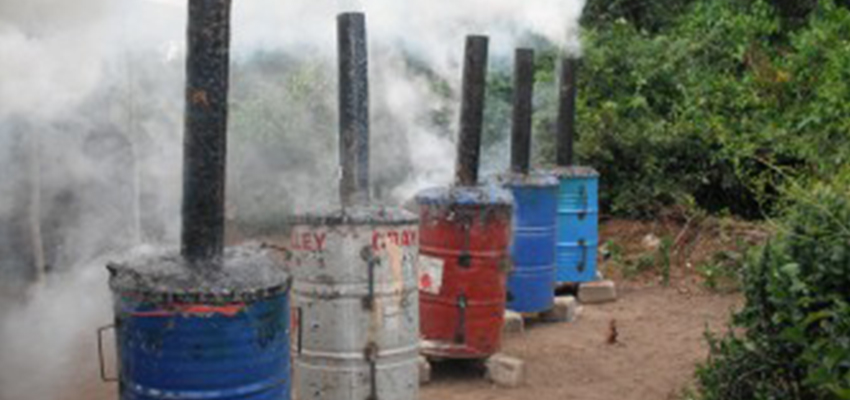 Charcoal kilns, ARTI Energy, Dar es-Salaam, Tanzania.
Leveraging MIT D-Lab's leadership in technology innovation to spur local innovation and entrepreneurship. 

MIT D-Lab's first large-scale technology transfer program was the Harvest Fuel Initiative (HFI) in collaboration with the New York-based NGO, The Charcoal Project (TCP). The Harvest Fuel Initiative (HFI) enabled the deployment of sustainable solid biomass fuels through the dissemination of appropriate technologies and knowledge to small and medium-sized enterprises, beginning in East Africa. The D-Lab Scale-Ups program provided technology and business support.
Enterprises in the HFI program included:
TEWDI Uganda in Soroti, Uganda
ARTI Energy in Dar es Salaam, Tanzania
Nakabale Integrated Development Group in Bugiri, Uganda
Green Bio Energy in Kampala, Uganda
TCP closely managed the projects building the necessary infrastructure to sustain the initiative's mission and activities in the long term. This included fundraising, exploring scalable financing mechanisms, and cross-learning between charcoal enterprises.
Dan Sweeney, an engineer and research scientist, based at MIT D-Lab, provided technical assistance to HFI partners and performs lab- and field-based research and development on biomass processing, product performance and usability, and quality control.
---
Team
Saida Benhayoune, Program Director
Jean Kim Chaix, The Charcoal Project
Sylvia Herzog, The Charcoal Project
Dan Sweeney, Research Scientist
Contact
Dan Sweeney, Research Scientist
---