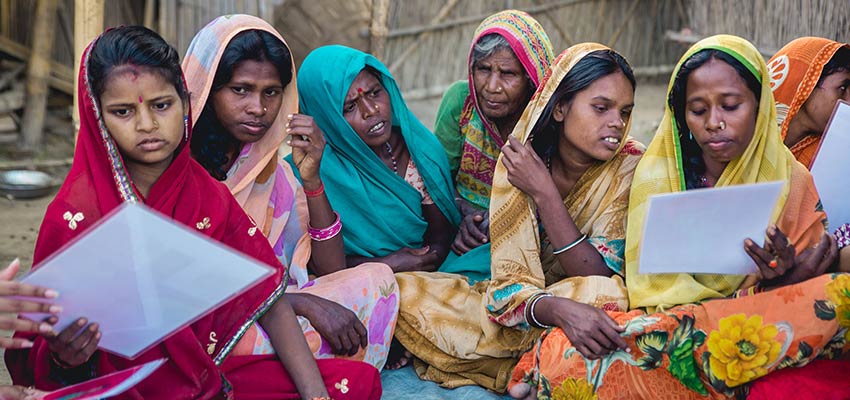 Women attending a maternal health meeting in Dalsinghsarai, India. Photo: Innovators In Health
How is the world made just?
The mission of this class is to inspire and prepare students to undertake the work of making the world just. We will start by exploring the nature of a just world – what ideals must you commit yourself to, and why? How are those ideals reconciled with the constraints the world 'as it is' imposes? Next, we will examine a variety of injustices so we can ably deconstruct their structures, dynamics and myth-making. This will yield initial insights into how to dismantle injustice. We will then analyze what role technology, markets and entrepreneurship have to play. If problems of justice are problems of right and wrong, then are instrumental approaches tangential to our quest? We will examine social entrepreneurship in particular to ensure that its means and ends are just. Finally, we will study accompaniment – journeying with the wronged until right is done, and explore its moral and tactical power and success in countering a variety of injustices.
Pedagogy
Students will complete assigned reading before the class. Instruction will be a combination of lectures and class discussions.
Project
Students will select an issue they want to work on, e.g., poverty, climate change, polarization, etc. They will research and analyze previous approaches, and then propose interventions of their own.
Prerequisites
None. Please attend the first lecture. Contact Manish Bhardwaj with questions.
Course Information
Instructor
Manish Bhardwaj
Units (credit hours)
3-0-9
Course #
EC.703 (U) / EC.783 (G)