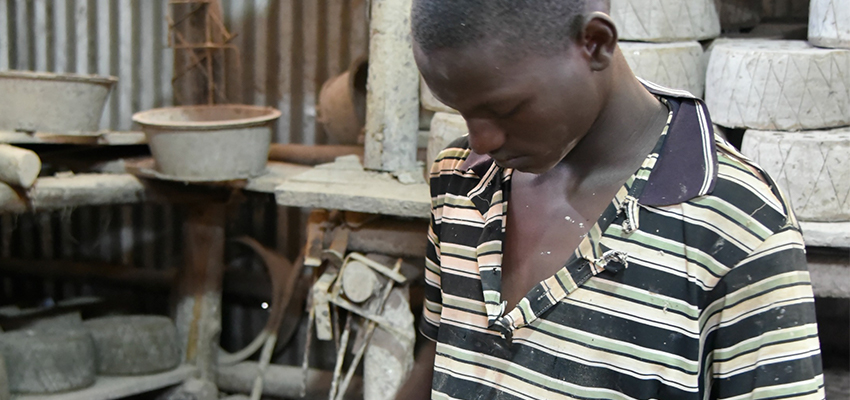 Cookstove production, Soroti, Uganda.
Improved cookstoves (ICS) have great potential to reduce the negative effects of cooking emissions, and products can be beneficial for users ranging from rural villagers to high-end consumers. However, despite the high potential for social impact, ICS manufacturers and distributors struggle with low margins, poor customer adoption, and lagging business growth. 
Research Study
MIT D-Lab's energy research group conducted a research study of Ugandan improved cookstove (ICS) companies, with the goal of understanding how the growth of these businesses depends upon the expertise and resources of the founding team. We hope that the results of this research will enable ICS business owners to bring their ventures to scale and help to support NGOs, investors, and government agencies to facilitate the scaling process. To learn more about this research see the following publications:

 Summary Report (4 pages)


 Full Research Paper (32 pages)


 Case Studies of 5 Improved Cookstove Companies (21 pages)
Key findings
We determined that scaling an improved cookstove (ICS) company without exposure to high levels of risk requires the minimization of business complexity and the maximization of internal capacity.
Business Complexity is the number and complexity of operations that comprise the company's business model.
Financial model
Product complexity
Manufacturing/sourcing model
Distribution and sales model
Internal Capacity is the ability to address the business' needs, and is comprised of:
Business proficiency
Financial resources 
Some companies feel that lack of capital is the biggest limitation for scaling their business when actually they need to first acquire the appropriate amount of business proficiency to manage their company's growth. 
Recommendations
Company leaders should seek to gain the required internal capacity before looking to increase business complexity and grow. Methods of building business proficiency include:
Participating in business training programs 
Hiring experienced employees and training of new employees
Participating in local business communities
Organizations supporting the ICS sector could have a great impact by increasing the number of capacity-building services available to these leaders. Some examples of potentially beneficial programs include:
Training/mentoring programs
Technical support
Peer-to-peer knowledge sharing
Incubators/Accelerators                                                             
---
Team
Macauley Kenney, 2016-2017 D-Lab Research Fellow
Eric Verploegen, Food-Water-Energy Lead
Nai Kalema
Contact
Eric Verploegen, Research Engineer, Food-Water-Energy Lead
---