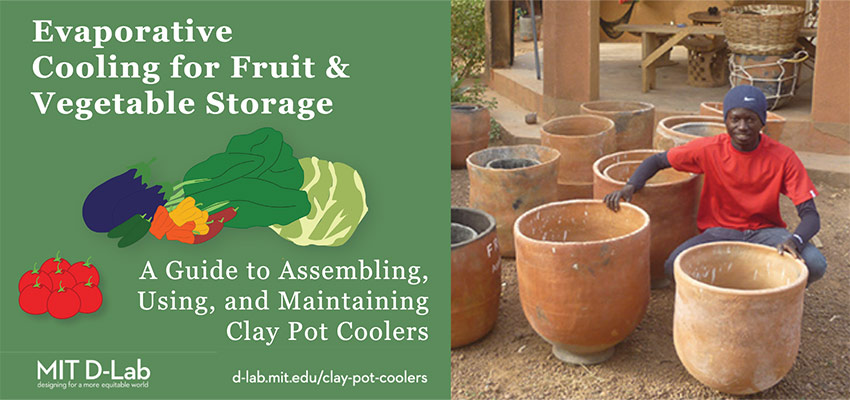 MIT D-Lab, the World Vegetable Center, and Institut d'Economie Rurale (IER) have developed this guide in order to disseminate information about this simple, low-cost technology that uses the principle of evaporative cooling to provide improved storage for fruits and vegetables. By improving vegetable shelf life, clay pot coolers have great potential to reduce food losses, improve nutrition, and allow households to save time and money. The guide, now available in French and English, covers the following aspects:
How evaporative cooling works
Importance of proper fruit and vegetable storage 
Types of clay pot coolers and how to assemble them
Fruit and vegetable compatibility
Best practices for using clay pot coolers
This guide is the centerpiece of an ongoing training program funded by the Innovation, Technology, & Research Hub at USAID and the Islamic Development Bank Transform Fund in the Mopti region of Mali.
Downloads
The initial work to develop this handbook, resulting in the English, French, Bambara, Swahili, Spanish, and Hindi versions was led by MIT D-Lab. The Hausa and Zarma language editions were developed by the spinout CoolVeg as part of the USAID Yalwa Activity in Niger.
---
More information
Clay pot coolers for vegetable preservation in Mali 
Contact
Eric Verploegen, MIT D-Lab Research Engineer, Evaporative Cooling Lead