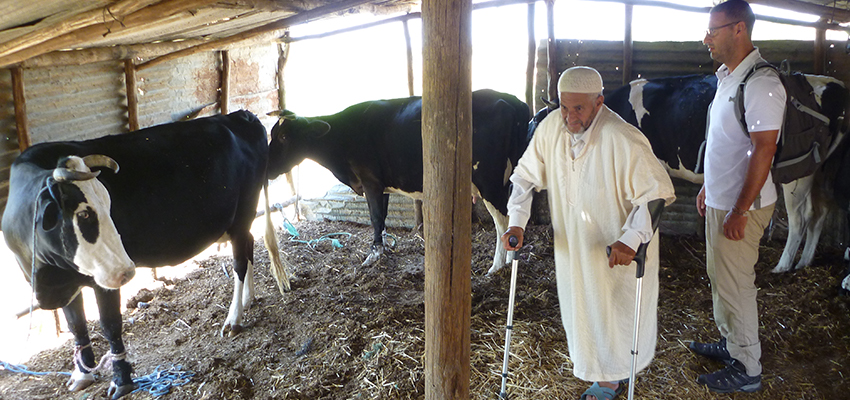 Translator Youssef Khalfaoui and a dairy farmer visit cows in his barn.

 Improving Livelihoods in Morocco: Needs Assessment of Small-Scale Cattle Farmer (2014, 4 pg)
In the summer of 2014, D-Lab carried out an in-depth study to characterize and assess the small-scale dairy and beef production system in Morocco
as it affects the livelihoods of the rural population. This assessment built upon and verified the findings of a preliminary study carried out by D-Lab a year earlier, which identified the high cost of animal feed as a major constraint for
Moroccan smallholder farmers.
Working in and around Tifelt, situated 65 kilometers east of Rabat, the D-Lab team selected and interviewed small-scale farmers about their cropping and livestock management practices. This D-Brief summarizes a 73-page report that includes a market analysis of the dairy sector in the Tifelt region, a stakeholder analysis, and a value chain analysis of the dairy and beef production systems, as well as a bio-economic model that evaluates the nutritional and economic
impact of potential solutions.