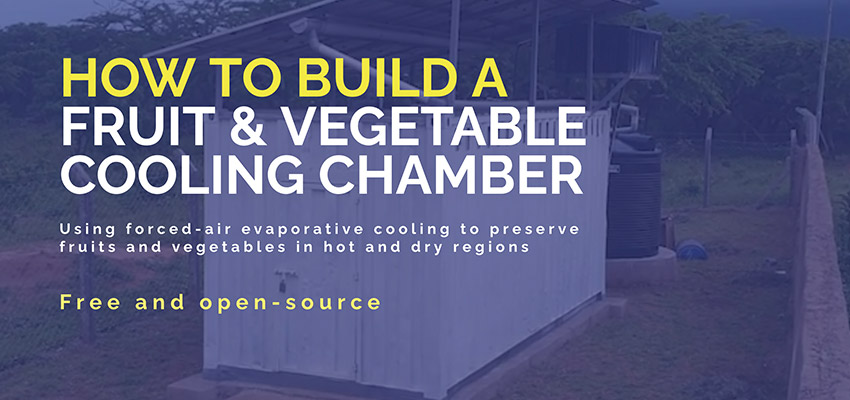 A cost-effective solution for storing fruits and vegetables in hot and dry climates using forced-air evaporative cooling.
 
Overview
Freshly harvested fruits and vegetables in hot dry climates need to be quickly cooled for preservation. Typical cooling systems use mechanical refrigeration, which are expensive due to upfront investment as well as the cost of energy required to operate them.
In contrast, evaporative cooling provides a cool and humid environment with lower energy consumption at half the cost of refrigerated cold rooms. By using evaporative cooling with forced airflow, this chamber design is ideal for the pre-cooling of fruits and vegetables in dry regions.
This website offers detailed documentation on how to build a forced-air evaporative cooling chamber covering the following topics:
1.    Introduction
2.    Dimensional design schematics
3.    Airflow system diagrams
4.    Electrical system diagrams
5.    Plumbing system diagrams
Visit the How to Build a Fruit and Vegetable Cooling Chamber website to find out more, download design documentation, and view related videos.
How to Build a Forced-Air Fruit and Vegetable Evaporative Cooler was created by researchers at MIT D-Lab and the MIT Building Technology Program in collaboration with Solar Freeze in Kenya and Hunnarshala Foundation in India. This project has been funded in part by the Abdul Latif Jameel Water and Food Systems Lab.
---
More information
MIT D-Lab evaporative cooling Spinout: CoolVeg
MIT D-Lab evaporative cooling publications, etc: See below
Contact
Eric Verploegen, MIT D-Lab Affiliate