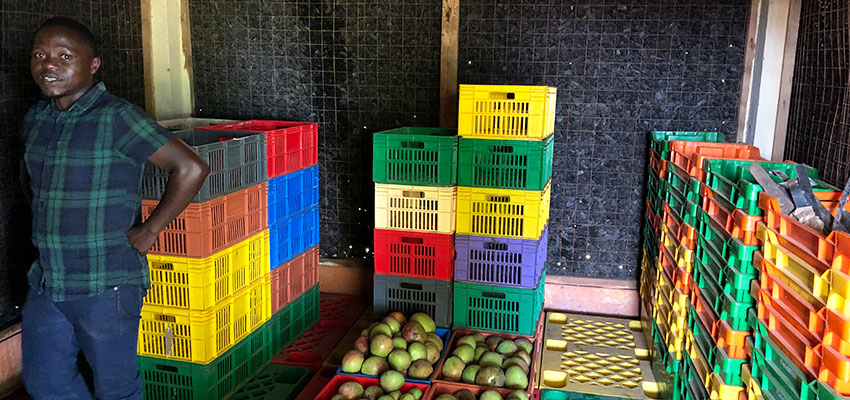 Emmanuel Amwoka of University of Nairobi in the interior of a room-sized evaporative cooling chamber. Photo: MIT D-Lab / Eric Verploegen
Storing vegetables after harvest without cooling them can lead to spoilage and reduced income for farmers. Most techniques for cooling and storing vegetables rely on vapor-compression refrigeration, which may be unaffordable or not available for many smallholder farmers, especially those living in remote areas on less than $3 a day. Systems that rely on evaporative cooling are particularly suited for hot, dry regions and countries with some access to water and limited or costly electricity, such as rural Kenya.
Charcoal cooling chambers and collaboration with the University of Nairobi
In partnership with researchers from the University of Nairobi's Plant Science and Crop Protection and Environmental and Biosystems Engineering departments who have extensive experience working with low-income rural communities on issues related to horticulture and improving livelihoods. The team began by looking at approaches for improving charcoal evaporative cooling chambers, which can improve fruit and vegetable storage shelf life by providing a stable storage environment with low temperature and high humidity. The improved shelf life can allow farmers to reduce post-harvest losses, and provide greater flexibility in value chains, enabling farmers to increase their profits. While charcoal cooling chambers have been shown to provide value to farmers, there is room for improvement around providing lower temperatures and faster cooling rates, reducing water consumption and the total cost of the system. Working with farming cooperatives whose primary product is mangoes, the team sought opportunities to optimize the design for performance, practical construction, and user preferences to meet the needs of smallholder farmers in low-income, rural communities in Kenya and better understand user behavior and pathways to adoption.
Forced-air evaporative cooling
Based on the research conducted with the University of Nairobi, the team has developed a design for a forced-air evaporative cooling chamber based on retrofitting a shipping container that will provide a lower-cost alternative to refrigerated cold rooms and a better-performing alternative to charcoal evaporative cooling chambers and non-climate-controlled environments. One key benefit of this forced-air design is the rapid cooling that can be provided making this system particularly well suited to pre-cooling applications.
The MIT team has built a prototype chamber in Cambridge, Massachusetts, along with pilot chambers with the Kenyan enterprise Solar Freeze and the NGO Hunnarshala Foundation based in Gujarat, India. The pilot chambers are currently in operation and data is being collected on the thermal performance and shelf life of key fruits and vegetables in the chamber.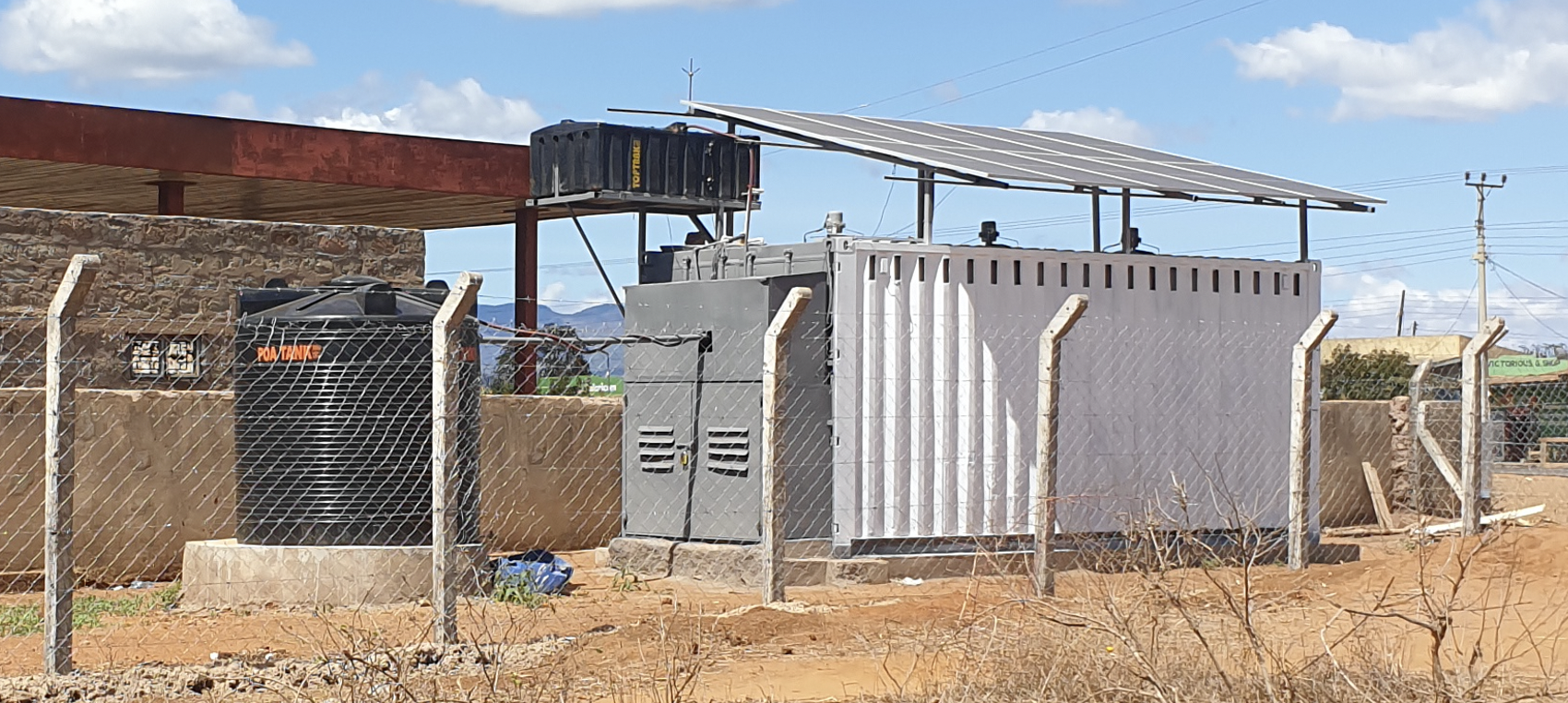 Open-source designs for the forced-air evaporative cooling chamber
The team has published detailed design documentation that is publicly available to allow others to replicate and improve on the design. The design documentation for the forced-air evaporative cooling chamber is available at the website How to Build a Fruit & Vegetable Cooling Chamber.
Funded in part by the MIT Abdul Latif Jameel Water and Food Systems Lab (J-WAFS).
Team
Eric Verploegen, MIT D-Lab Research Engineer
Leon Glicksman, Professor of Building Technology and Mechanical Engineering
---
More information
MIT D-Lab blog post: Evaporative cooler construction with the University of Nairobi
MIT D-Lab evaporative cooling Spinout: CoolVeg
MIT D-Lab evaporative cooling publications, etc: See below
Contact
Eric Verploegen, MIT D-Lab Affiliate