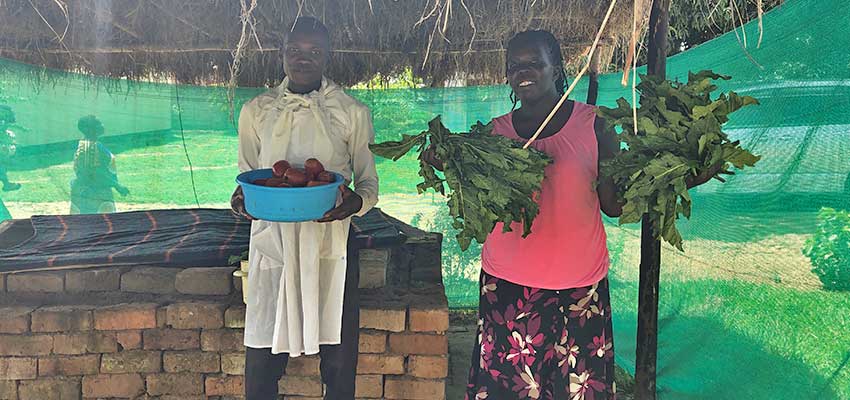 Local chef Nicholas Edwaru (left) and Betty Ikalany (right) with fresh vegetables that have been stored in the brick evaporative cooling chamber.
Brick cooling chambers – also known as "zero energy cool chambers (ZECCs)" – can be made from locally available materials including bricks, sand, wood, dry grass, gunny/burlap sack, and twine. By providing a cool humid environment, brick cooling chambers can improve the shelf life of many common fruits and vegetables. D-Lab has conducted research projects evaluating the performance of these devices and is working with partners in several countries to disseminate this technology. 
An evaporative cooling chamber for TEWDI Uganda and AEST
Betty Ikalany, founder of TEWDI Uganda and Appropriate Energy Savings Technologies (AEST), an alternative charcoal briquette and cookstove company, was in need of improved storage for fruits and vegetables for her family and the AEST staff, as well as for her burgeoning new business selling dried fruits at local markets. Evaporative Cooling lead researcher Eric Verploegen traveled to Soroti in January 2019, during MIT's Independent Activities Period, and suggested that evaporative cooling might provide value for Betty's multiple fruit and vegetable storage needs. She agreed and constructed a brick evaporative cooling chamber using MIT D-Lab's "Evaporative Cooling Best Practices Guide."
Brick evaporative cooling chambers in Gujarat, India
D-Lab began collaborating with Collectives for Integrated Livelihood Initiatives (CInI) in 2018 to evaluate the fruit and vegetable storage needs of farmers in Western India. First, a scoping study was conducted to determine the farmer's storage needs; including the type and quantity of produce that needs to be stored, current storage practices, and the supply chain challenges they face due to inadequate storage options. Based on the results of this scoping study, D-Lab worked with CInI to construct three brick evaporative cooling chambers (ECCs) in the villages of Mandavav, Goriya, and Samtrampur in the state of Gujarat. Each ECC is capable of storing ~ 400 kg of fruits and vegetables. Funded by the MIT Abdul Laftil Jameel Water and Food Systems Lab (J-WAFS), D-Lab installed sensors to monitor the chamber's performance and conducted interviews with local farmers. 
---
Research reports
Evaporative Cooling for Improved Vegetable and Fruit Storage in Rwanda and Burkina Faso
Evaporative Cooling Technologies for Improved Vegetable Storage in Mali
More information
MIT D-Lab blog post: Disseminating evaporative cooling technologies in rural Uganda
MIT D-Lab blog post: Piloting Evaporative Cooling Technologies in Western India
Publication: Evaporative Cooling Best Practices Guide
Contact
Eric Verploegen, MIT D-Lab Research Engineer