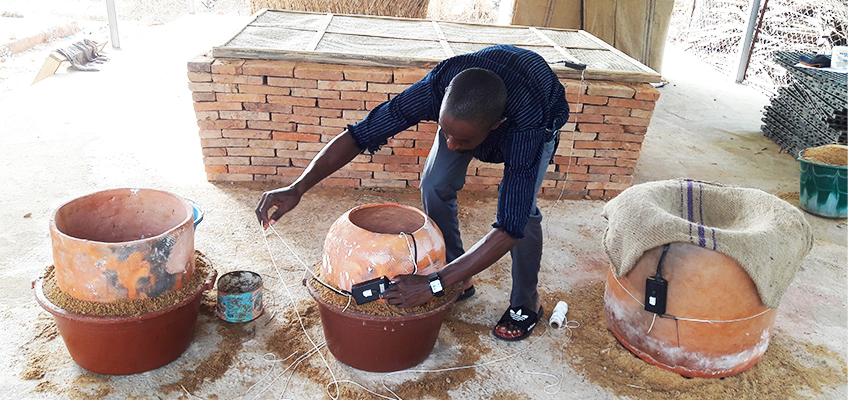 Attaching a sensor to a pot-in-pot evaporative cooler in Bamako, Mali.
Research on the most practical and effective evaporative cooling device designs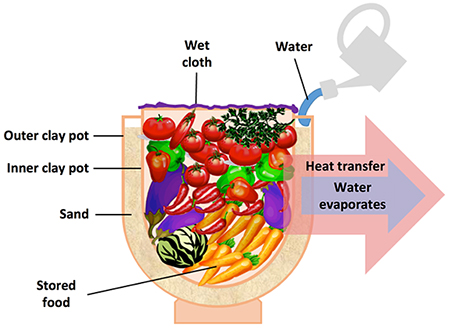 Peter Rinker, Movement e.V.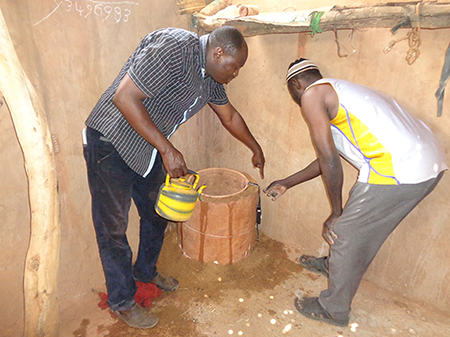 Ousman Sanogo explaining the use of a clay pot cooler in Mopti, Mali
D-Lab's current work on evaporative cooler performance and design 
In partnership with Sensen, D-Lab uses data logging sensors remotely monitor the performance of evaporative cooling devices in the laboratory and the field. Additionally, we are developing a heat and mass transfer model that will be validated with laboratory and field testing data, to allow for design variations to be rapidly explored. By identifying the key design constraints that limit the performance of evaporative cooling devices we will be able to help guide practitioners to develop evaporative cooling devices that are both practical and effective.
Our current projects in this area includes design research on clay pot coolers in Mali and room-sized evaporative cooling chambers for farming cooperatives in Kenya.
We are seeking additional partnerships with organizations interested in studying the performance of evaporative cooling devices in the context where they work.
D-Lab's areas of work on evaporative cooling for vegetable preservation