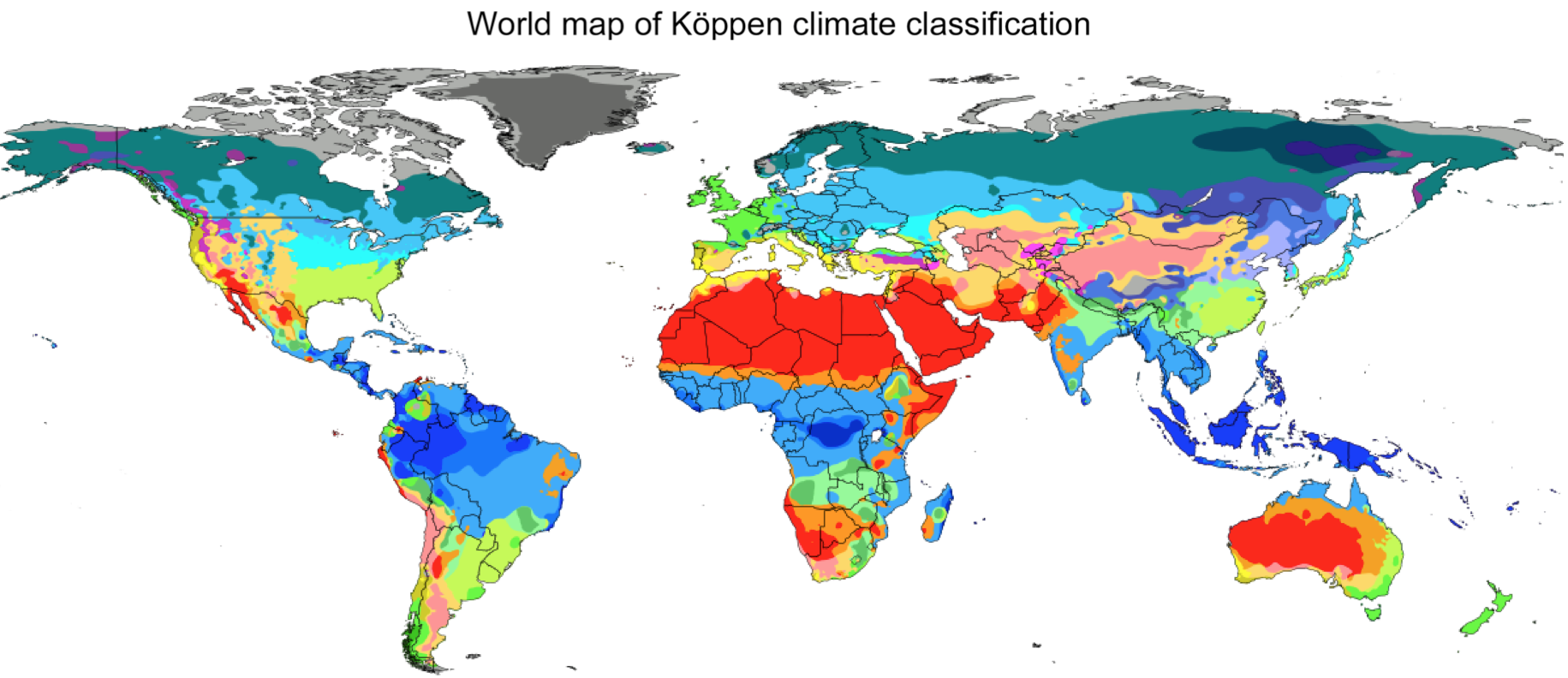 The Koppen climate classification map shown above gives an overview of regions in the world where hot and dry climates are present: "Dry-Desert-Hot summer" climates (represented in red) and "Dry-Steppe-Hot summer" climates (represented in orange). Website: http://hanschen.org/koppen/
Determining if evaporative cooling has the potential to provide value in a specific context
 
Before contemplating the use of evaporative cooling devices, several key factors that are not widely well-understood need to be considered:
Local weather: the most benefit is provided in hot and dry climates
Access to water: water must be added for evaporative cooling to work
What needs to be stored: While vegetables can benefit, meat, medicine, and dairy require lower temperatures than evaporative cooling devices can provide
Cost of construction: the cost of building an evaporative cooling device with locally available materials must be affordable relative to the value that it will provide
Information on an evaporative cooling scoping study that MIT D-Lab conducted in Western India can be found in this blog.
Resources available
MIT D-Lab's Evaporative Cooling Best Practices Guide (PDF), provides guidance for determining if evaporative cooling is a good fit for a particular context, and the Evaporative Cooling Decision-Making Tool (Excel) is an interactive Microsoft Excel-based decision-making tool to help determine the suitability of evaporative cooling based on local weather conditions, and to guide the calculation of potential financial savings. 
We are currently developing a rapid assessment toolkit to support local organizations or individuals to gather information for identifying specific potential users who could benefit from evaporative cooling for improved vegetable preservation. Additionally, we are compiling GIS data (temperature humidity, population density, water access, electricity access, and horticulture production) for the Sahel region of West Africa and East Africa to provide a picture of where there is potential for evaporative cooling to provide improved vegetable preservation on a regional level.
MIT D-Lab's areas of work on evaporative cooling for vegetable preservation