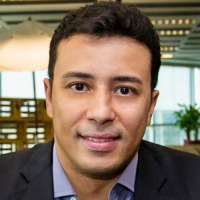 2018 Innovation Ecosystem Builder Fellow
Innovation and New Businesses at the Ministry of Industry, Foreign Trade and Services, Brazil, National Secretary
Marcos Vinicius de Souza is a 2018 MIT D-Lab Innovation Ecosystem Builder Fellow.
As National Secretary for Innovation and New Businesses at the Ministry of Industry, Foreign Trade and Services in Brazil, Marcos is responsible for innovation policies, startup programs, intellectual property regulation, international negotiations, investment attraction, workforce training, and digital economy strategies for the country, as well as R&D plans for the Amazon region. He leads the largest startups accelerator program in Latin America and also the Brazilian Strategy for Impact Investments and Social Business.
With a Bachelor of Business Administration, an MBA in Cluster Development from ECLAC/United Nations and training in innovation policy by VINNOVA, a Swedish Innovation Agency, Marcos is a member of the main Advisory Boards and Steering Committees related to innovation policy in the Brazilian Federal Government. Before joining the Ministry, he worked in management consulting and venture capital fund.