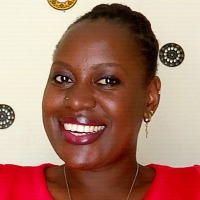 2018 Innovation Ecosystem Builder Fellow
Kyusa, Founder & Executive Director
Noeline Kirabo is a 2018 MIT D-Lab Innovation Ecosystem Builder Fellow.
Noeline is a family therapist by training and a social entrepreneur by design. She is the Founder and Executive Director of Kyusa, a nonprofit that addresses youth unemployment in Uganda's slums by empowering student dropouts to turn their passions into sustainable careers.
Noeline is also the Director of the New Generation Mentoring Program, an intensive mentoring program for young women that aims to develop outstanding female leaders. She is an author, motivational speaker, life and career coach and business development consultant. Her mission is to empower people to identify their purpose and turn their passions into skills for fruitful living.