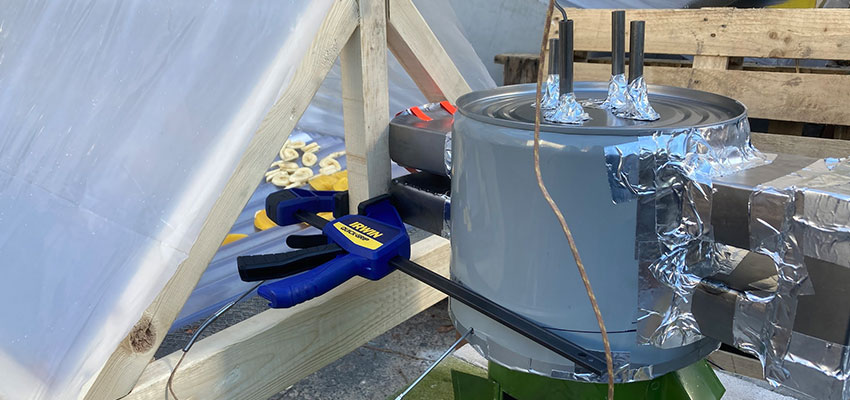 Drying jackfruit, bananas, and mangoes in our solar dryer using the heat exchanger with a double-pass on the Makaa cookstove. Photo: MIT D-Lab
Introduction to Fruit Drying
According to the United Nations, one-third of the world's food is wasted annually. The majority of fruit loss occurs during storage or right after harvest. Drying fruit prevents food waste. Drying fruit has a lot of benefits. It can decrease post-harvest waste, increase the commercial value of fruit, add jobs to the local economy, and provide great nutritional value.
Our Community Partner
We have designed an affordable drying system that attempts to optimize drying time and reduce fuel expenditure to allow our community partner, the Teso Women Development Initiative (TEWDI Uganda), to produce attractive, clean-tasting fruit at a profit. TEWDI is based in Soroti, Uganda, and has several small businesses for charcoal briquette, charcoal Makaa cookstove, and fruit drying production.
Activities Conducted
We have evaluated multiple designs from two potential fuel sources: charcoal briquettes and peanut shells. After doing a holistic analysis of different design criteria, we concluded that the charcoal-powered Makaa cookstove heat exchanger (HEX) was the best option. It uses readily available materials and has a familiar user experience. We then designed the HEX around the Makaa cookstove's dimensions and heat output. In our design, we prioritized the maximization of radiative heat transfer and the minimization of thermodynamic losses. The HEX was then tested for its thermodynamic efficiency.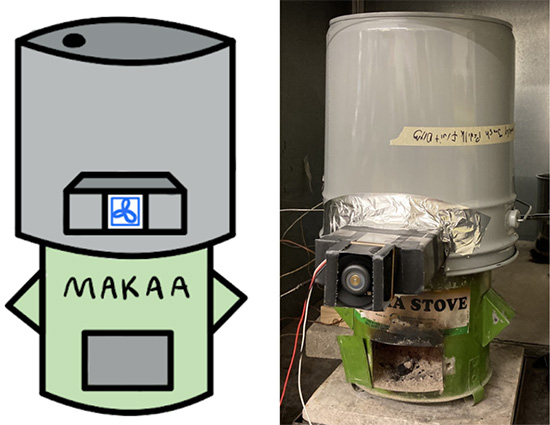 Discussion of Data Collected
From a literature review, the thermal efficiency of the Makaa cookstove was found to be 35%. Using the data collected from our test and two different analytical models, our team was able to calculate both the thermal efficiency of the HEX (59%) and the total efficiency of the system (20.6%).
Our Next Steps
Currently, our team has been working on improving the HEX and Makaa cookstove interface. We have transitioned to a different insulation material that is more readily available. In addition, we have begun analyzing the dominant factor in fruit drying, airspeed across the fruit, and are considering different fan options. Most recently, our team has designed and built a double-pass HEX which should increase the thermal efficiency of the HEX by 50%. We hope that it will not affect the outlet airspeed of the HEX by more than 50%. Moving forward, our team plans to conduct full system testing which will include drying fruit over several hours and recommending parametric experiments. This will help future teams optimize fan selection and fuel consumption resulting in faster fruit drying times.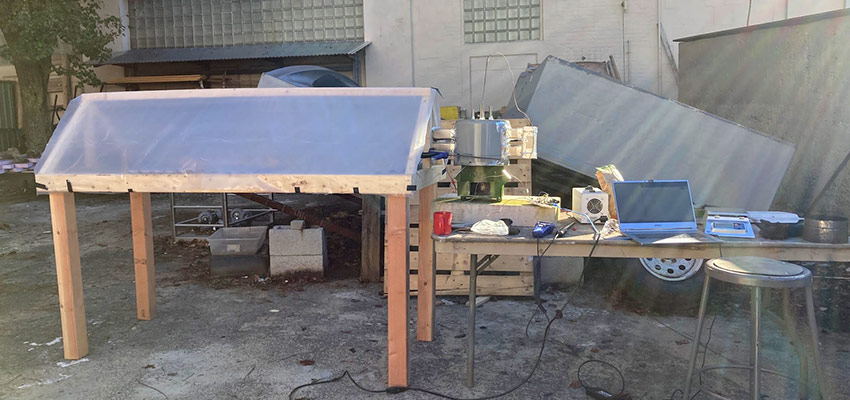 ---
MIT D-Lab class
Applications of Energy in Global Development
Student team
MIT students unless otherwise noted.
Joushua Padilla, G, Mechanical Engineering
Connie Ly '24, Mechanical Engineering
Logan Vawter ' Mechanical Engineering
Brittny Chong, G, Sloan School of Management
Community partner
Betty Ikalany, Executive Director
Acuku Helen Ekolu, Programmes Coordinator
MIT D-Lab program
Biomass Fuel and Cookstoves Research
Contact
Dan Sweeney, MIT D-Lab Research Scientist; Biomass Fuel and Cookstoves lead; Lecturer