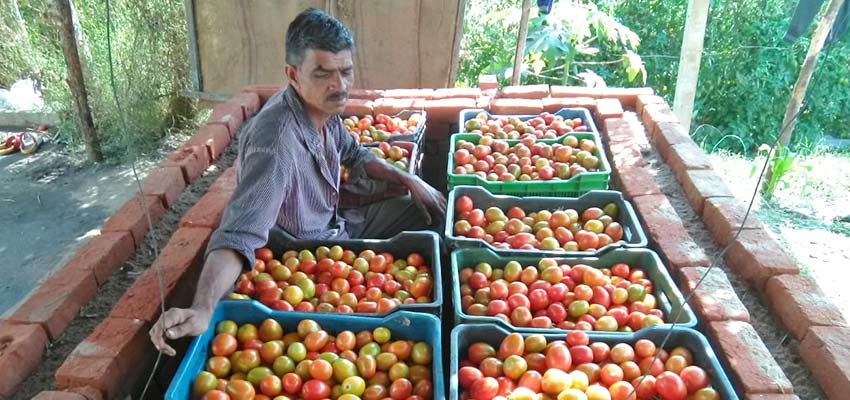 Photo: Anish Paul Antony
 
The two primary goals of this project are to:
Construct brick evaporative cooling chambers in Gujarat, India 
Evaluate the performance of the chambers through the use of data logging sensors and interviews with the farmers that use the chambers.
This project is being conducted in partnership with Collectives for Integrated Livelihood Initiatives (CInI), India
Three chambers fitted with sensors built in three villages
In September and October of 2019, Anish Paul Antony, Postdoc Researcher at D-Lab, worked with CInI to construct three brick evaporative cooling chambers (ECCs) in the villages of Mandavav, Goriya, and Samtrampur in the state of Gujarat. Each ECC is capable of storing ~ 400 kg of fruits and vegetables.
Sensors were installed on the ECC devices to measure the temperature and relative humidity at several locations, including: on the inside surface of the brick wall, on the outside surface of the brick wall, inside the ECC, inside crates containing vegetables, and outside of the chamber to measure the ambient conditions.
Additionally, the sensors measure the moisture of the sand that allows for the monitoring of when the chambers are being watered. The sensors were designed by Sensen, a company that provides data-driven insights to projects and organizations working in international development.
While the chambers were being constructed, local farmers were familiarized with the technology, how they are used, and the benefits they can provide. The farmers are currently using the ECCs to store tomatoes.
Replication by a local farmer
While D-Lab and CInI were constructing the ECC in Mandavav, a local farmer became familiar with the technology by observing the construction and decided to build his own ECC his land. He was able to accomplish this using the excess materials he already had available. This is an important result that indicates the potential for local replication without requiring external funding to cover the full materials and project management costs. Promoting local replication by promoting awareness is a promising route for scaling this program in the long run.  
Next steps
In addition to analyzing the sensor data, D-Lab and CInI will be conducting interviews with farmers to gather information on (a) the type of vegetable being stored in the ECCs, (b) impact on shelf life for the vegetables stored in the ECCs, (c) changes in the behavior of the farmer as a result of the ECC and (d) any improvements in the quality of vegetable that are stored in the ECC. This information will be used to inform the design of improved ECCs and a report will be published later in 2020.
Funded in part by a Seed Grant from the MIT Abdul Laftil Jameel Water and Food Systems Lab (J-WAFS).