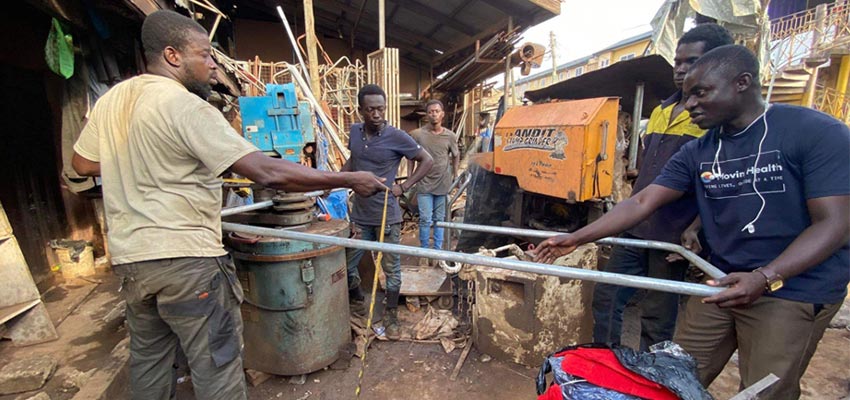 Artisan in Suame Magazine bending metal pipe. Photo: Aditya Mehrotra
Reducing incidence of waste oil pollution in Suame Magazine through potential oil recycling and educational campaign programs.
Student team
Sabrina Hare (MIT '23) - Mechanical Engineering and Product Design Major in the class of 2023.
Sarah Lohmar (MIT MCP '22) - Urban planning student interest in sustainability, transportation, and environmental planning
Olyvia Hanken-Arlen (Wellesley '25) - A physics major that sometimes likes to pretend she's MechE.
Community partner
Mr. Johnson Asante, KNUST University
Project mentor
Adi Mehrotra - Graduate student, MIT Mechanical Engineering
Location
Ghana
Small enterprises, big problem
Suame Magazine is a small industrialized area near the city of Kumasi in central Ghana. Nearly 200,000 artisanal workers, primarily in the automotive repair business, operate highly specialized microenterprises in the area. Used motor oil seeps into the groundwater in Suame Magazine on a daily basis- either incidentally, or from being spread on the ground to avoid dust in the open-air machine shops. This can seep into  the ground-water wells used by the community, which can have catastrophic health consequences as the water is used for cooking, cleaning, and drinking purposes. To our knowledge, no formalized efforts have been made to prevent the widespread ongoing spent oil dumping.
Our strategy
Our solution consists of establishing a way to incentivize oil recycling in Suame Magazine through a income-incentive mechanism, and understanding how and if oil can be recycled for other uses. Big contaminants in used motor oil include particulates and water which we plan on removing from the oil in a two step process. First by filtering the oil through a porous material and then by removing the water from the oil either by relying on density for the oil and water to separate over the course of a few days or a type of water evaporation process.
Theory of change
Our theory of change statement is: If we provide automotive workers in Suame Magazine an income incentive for recycling the used motor oil from their services, then we will prevent motor oil from further contaminating the groundwater, as well as generating income for both the workshops and cooperating recyclers.
Goals and future directions
We aim to work with the artisans in Suame  Magazine to develop a solution that works with locally sourced materials available in the area, and doesn't involve a large amount of effort on the part of the business owners. Furthermore, we aim to gain a better understanding on the current levels of public awareness about water safety issues in Suame Magazine. This information would be valuable context for future, more socially-oriented projects in preventing oil pollution.
---
MIT D-Lab Class
Contact
Libby Hsu, Lecturer; MIT D-Lab Associate Director of Academics