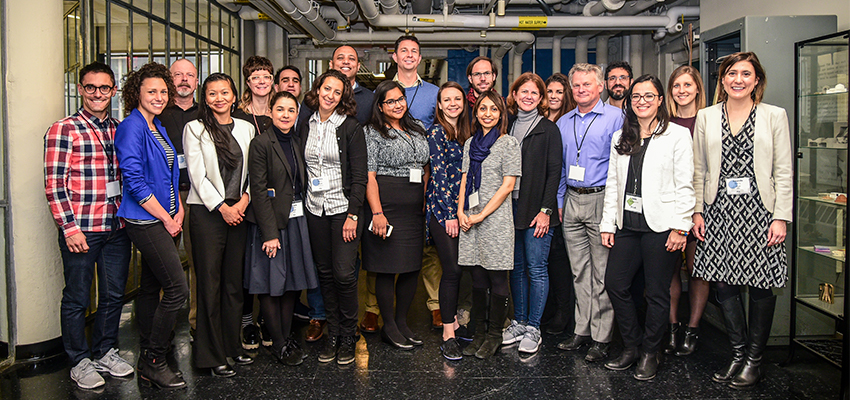 Practical Impact Alliance members and staff, April 2018
The MIT Practical Impact Alliance (PIA), organized by MIT D-Lab from 2015 to 2019, was a membership network of leaders from diverse organizations committed to inclusive innovation business and development who were convened to learn, collaborate, and develop best practices together.
Through PIA's activities – working groups, field-based co-design summits, an annual members' meeting, and MIT student engagement opportunities, organizations increased their individual and collective impact – all while leveraging and supporting the work of MIT programs focusing on global poverty alleviation.
Those member organizations included:
Member testimonials
"We're thrilled to be a founding member of MIT D-Lab's Practical Impact Alliance. Collaborations that bring industry partners, NGOs, and academia together help make real solutions that address the needs of underserved populations accessible."
- Michael Moscherosch, Director, External Innovation & Alliances, Johnson & Johnson

"The co-design summit was a tremendous opportunity to roll up our sleeves and work in partnership with local innovators and designers, community members and like-minded NGOs and international companies to design solutions together. As the chief of innovation design, I am a believer in the power of designing solutions "with" communities rather than "for" communities. 
- Seema Patel, Division Chief, Innovation Design & Advisory, USAID

It was extremely rewarding to witness the participant's transformations: community representatives becoming empowered to co-create solutions for their village, PIA members recognizing their biases and challenging their assumptions while gaining a real appreciation for the co-design process. It was a validation for the power of D-Lab's co-creation methodology, our experiential learning approach and our vision for PIA."
- Winthrop Carty, Executive Director, Melton Foundation
Five Years of PIA - Peer Learning & Collaborative Action
After five years of operating PIA, MIT DLab chose to shutter the Practical Impact Alliance and adapt its content to new program offerings. This decision was reached as a result of consulting with PIA members and reflecting on the lessons captured through PIA's journey.
Thanks to all who joined us for some part or all of this learning journey!
Look back through our annual reports for a review of the program's activities, and read our 2020 report reflecting on our five years of operating the program, Challenges to Building an Inclusive Business Community: 5 Lessons from the MIT Practical Impact Alliance.
Co-Design Summits
Enabling collaborative action through co-design
The MIT Practical Impact Alliance (PIA) was born out of MIT D-Lab's conversations with industry leaders who craved the opportunity to get together with like-minded professionals to roll up their sleeves and bring about practical solutions to poverty. The annual PIA Co-Design Summit was a cornerstone of the PIA member activities and embodied this hands-on ethos.
Leveraging D-Lab's noted expertise in collaborative design, summits gave PIA members experience with the real needs and challenges of working in developing markets, and local attendees had an opportunity to expose local products, services, ventures, needs, challenges, and opportunities to PIA members.
Publications & Tools
Harvesting shared learning and generating practical tools
Each year, PIA members worked together to determine areas of common interest or need that cut across sectors and geographies. Members joined working groups of interest, allowing them to tailor their participation in PIA to the priorities of their organizations. The groups focused primarily on addressing a knowledge gap of the group and in the field, with the goal of generating outputs that would serve as relevant, practical tools for PIA members and a broader practitioner audience. Each group was facilitated by MIT D-Lab and co-led by a PIA member.
Online Courses:
Equipping the next generation of social impact practitioners
Building on its years of experience in experiential learning, MIT D-lab developed two online courses aimed at social impact practitioners from businesses, international development organizations, and start-ups to learn the fundamentals of participatory design and inclusive business design in developing markets.
PIA Program Impact Reports
Challenges to Building an Inclusive Business Community: 5 Lessons from the MIT Practical Impact Alliance
---
Contact
Nancy Adams, MIT D-Lab Communications Officer