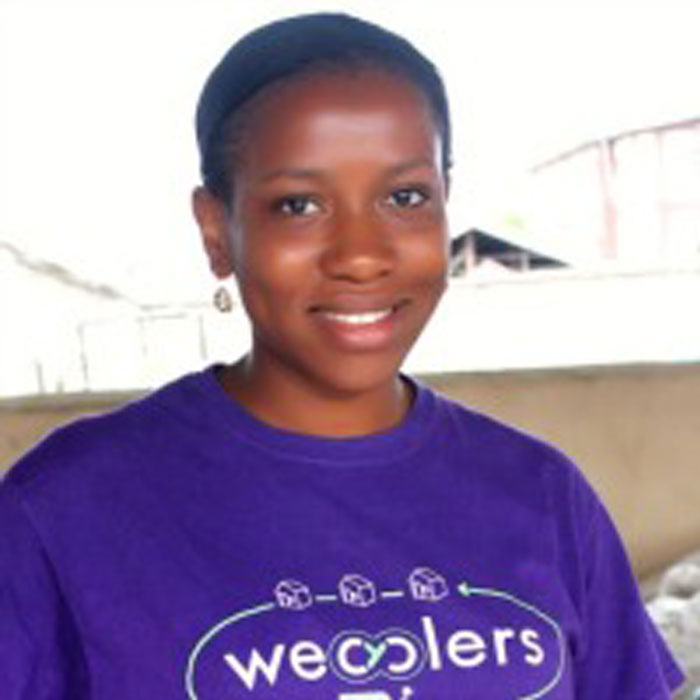 2012 Scale-Ups Fellow
CEO, Wecyclers
Waste collection cargo bicycle will be used for the collection of recyclable material in densely populated, low-income areas.
Website: Wecyclers
Partner: Lagos Waste Management Authority (LAWMA)
Pilot Market: Lagos, Nigeria
Meet Scale-Ups Fellow, Belikiss Adbiyi
Bilikiss worked at IBM for five years where she developed social networking software that served thousands of users at Fortune 500 companies. She holds an MBA from the Sloan School of Management at MIT, an MA in computer science from Vanderbilt University, and a BS in computer science from Fisk University. She is chief executive officer of wecylers, a Lagos-based organization giving low-income communities in developing countries a chance to capture value from waste and clean up their neighborhoods through incentive-based recycling. 
The Issue: 12 million people in need of trash collection in Lagos, Nigeria
About 60 percent of the 12 million people living in the slums of Lagos do not have access to reliable municipal trash collection and are left to deal with waste disposal on their own. Even with the cost of private waste collection at $2 per month, it is not an option for the 91 percent of Lagos residents living on less than $1.25 per day. Waste dumping, burning, and burying in slums leads to environmental degradation and health problems.
The Solution: An income producing waste collection cargo bike 
Appropriately designed cargo bikes are ideal for easing urban waste collection because they can navigate narrow roads in urban neighborhoods, are economical, non-polluting, and provide opportunities for job creation. An adapted cargo bicycle is less expensive to build and operate than motorized vehicles and, compared to handcarts, cargo bicycles are less physically demanding for operators needing to cover long distances. Four designs being tested include: a cargo trike, a cargo bike and two versions of a bicycle with adapted handcart trailer. Design considerations include area of cargo area, ratio of weight to strength, and gearshift ratio.