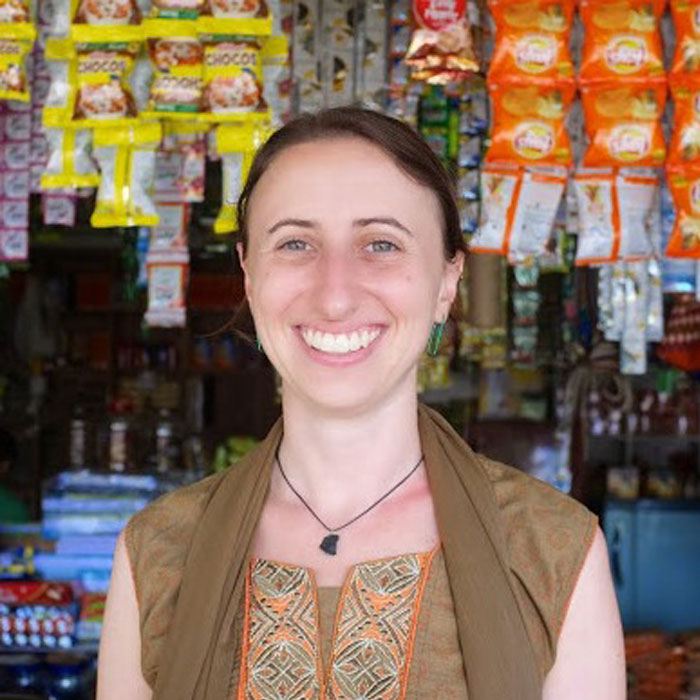 2016 Scale-Ups Fellow
CEO, Essmart
Building a rechargeable headlamp for rural Indian farmers.
Website: Essmart Global
Pilot Market: India
Meet Scale-Ups Fellow, Jackie Stenson
Jackie Stenson is passionate about technology dissemination. An engineer by training, Jackie worked for technology-for-development initiatives in 11 African countries and India, until she realized that the real challenge is getting these products to their intended end users. She shifted her focus to technology dissemination strategies in low-income settings, specifically in East Africa and India. Her work and research helped lay the groundwork for Essmart.
Essmart is a distribution company for life-improving technologies based in southern India that connects local retail shops to a catalogue of essential goods by providing marketing, distribution, and after-sales service. Jackie has a BS in mechanical engineering from Harvard and an MPhil in Engineering for Sustainable Development from the University of Cambridge. She has been featured on the Forbes 30 Under 30 list, as an Echoing Green Fellow, and as a Cartier Women's Initiative Awards Laureate for her work with Essmart. Jackie is an IDIN Network member who attended IDDS 2010 at Colorado State University. 
The issue: Many south Indian farming tasks require the use of both hands in low-light settings, making those tasks unsafe, inconvenient or inefficient
For south Indian farmers, picking crops, climbing coconut trees, and digging irrigation ditches are common tasks that require both hands. Due to the hot climate, most of the farming work is conducted in low-light settings such as mornings before sunrise or evenings after sunset. As a result, many tasks are unsafe, inconvenient, or inefficient because farmers and laborers do not have sufficient lights or are unable to use both of their hands because they must carry a flashlight to aid their work.
The solution: A reliable, rechargeable headlamp for rural farmers
Essmart engages a network of shop owners who collectively reach an estimated 900,000 people. For over two years, these shop owners have consistently identified and asked for one specific product that is urgently needed by farmers and villages alike: a low-cost, rechargeable headlamp with a warranty. While headlamps do exist in villages, they are cheaply made and come without a warranty. Many break only months after purchase.
With support from the D-Lab Scale-Ups Fellowship, Essmart will develop an affordable, bright, rechargeable headlamp to be sold with a warranty. This will entail design and development of the Essmart headlamp prototype, user testing and adoption studies, and eventually rollout of the product to the shops in Essmart's growing network.